Oregon grand jury indicts 16 wildlife refuge occupiers – prosecutors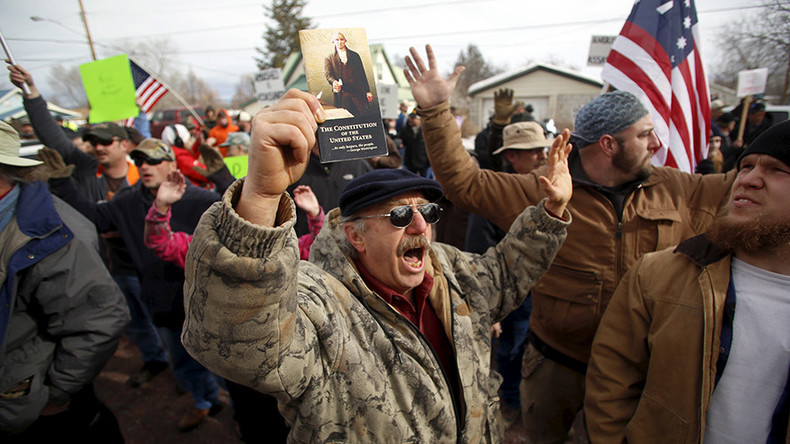 Ammon Bundy and 15 others involved in the armed occupation of Malheur National Wildlife Refuge near Burns, Oregon were indicted Wednesday, prosecutors told reporters. Defense attorneys claim their clients were exercising non-violent civil disobedience.
The indictment remains sealed, though Assistant US Attorney Geoff Barrow said it would be released within 24 hours. Defense lawyers sought to have it released immediately, but US Magistrate Judge Janice Stewart denied their request.
Few details related to the indictment are known, but at least 11 of the people charged were arrested last week on charges of felony conspiracy. They are Ammon Bundy, Ryan Bundy, Ryan Payne, Brian Cavalier, Shawna Cox, Joseph O'Shaughnessy, Pete Santilli, Jason Patrick, Duane Ehmer, Dylan Anderson, and Jon Ritzheimer.
They are accused of using intimidation to keep authorities out of the refuge. Their arraignment has been set for February 24.
The charges stem from the seizure of the Malheur National Wildlife Refuge on January 2. The protesters, who came to be known as Citizens for Constitutional Freedom, demanded the exoneration and release of imprisoned father-and-son ranchers Dwight and Steven Hammond, who had been re-sentenced after their time served for arson charges was deemed unlawfully short. The Hammonds distanced themselves from the armed supporters though, turning themselves in to federal authorities.
Before a charge can become an indictment, it is simply a criminal complaint by police. At that stage, defendants get a preliminary hearing where they can question the arresting officer under oath as long as the questions pertain to probable cause for the arrest. However, in the matter of the Oregon occupiers, Judge Stewart canceled the scheduled preliminary hearings, citing the indictment delivered by prosecutors. The defense has yet to see the indictment.
"That's an unusual thing and it's unfortunate in a case like this, where many of the people distrust the government to begin with," Lisa Hay, defense attorney for Ryan Payne, told the Associated Press.
Hay also suspects the federal government of having told the US Marshals Service ahead of any indictment not to bring defendants to court.
"It makes a mockery of the grand jury process to alert marshals ahead of time,'' Hay told The Oregonian.
Defense attorney Mike Arnold asked the court to make sure his client, Ammon Bundy, would always be in court during hearings. Another defense lawyer, Amy Baggio, who is defending Joseph O'Shaughnessy, told the court it didn't have the right to withhold the indictment per Rule 6 of the federal rules of criminal procedure, according to The Oregonian.
You can share this story on social media: