Anti-swatting congresswoman becomes swatting victim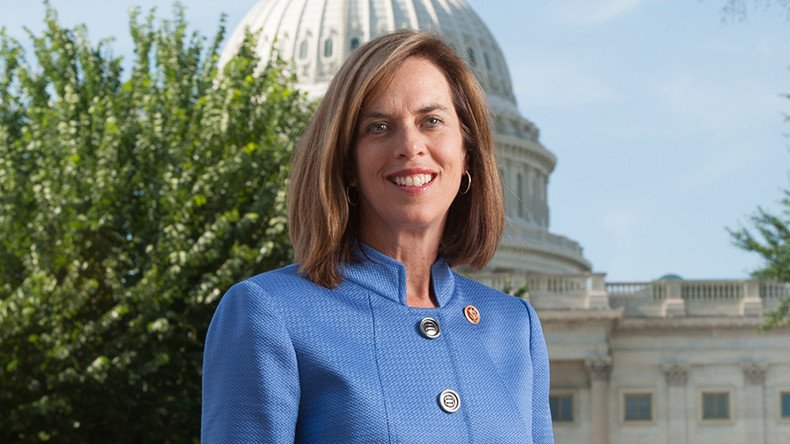 The sponsor of a federal anti-swatting bill is now a victim of the growing trend in which a person anonymously files a false crime report. Rep. Katherine Clark says she's "rattled" by the incident, but has strengthened her resolve against online abuse.
The 52-year-old Massachusetts Democrat and her husband were watching TV on Sunday night when they realized something was amiss.
"We saw lights flashing outside of my house," Clark told WBZ-TV. "I went out to explore. There were a number of police cruisers. There were police visible with long guns on my front lawn."
Police officers ‒ not a SWAT team ‒ had surrounded her house.
"An anonymous caller had called an active shooting at my house and shots had been fired. After talking to police it appeared that I was the victim of a hoax called swatting," Clark told the Boston Herald. "They call in a false emergency hoping to get an armed response that will harm the people at the home."
The Melrose Police Department had received "a computer-generated phone call from an unknown caller stating that there were 'shots fired' and an 'active shooter'" at Clark's home, they said in a statement.
"It appears that someone was trying to elicit a police response by making a false report," Melrose Police Chief Michael L. Lyle said. "We take incidents like this very seriously, and will conduct a thorough investigation."
Officers did not enter Clark's home, as they quickly determined that there was no danger or threat within.
"I think they recognized who I was," Clark told the Herald. "They looked a little tenuous. I turned on the porch light and came outside. They were very professional. And we were extremely grateful for their fast response because it could have been a realized incident. That's part of the real danger of these hoaxes. It's dangerous for the victim. It's also dangerous to law enforcement who have to assess these situations."
"I was glad that both my boys were asleep and unaware. My husband and I were rattled," she continued. "I've been hearing stories of these swatting incidents from around the country."
The sophomore representative believes the perpetrators disagree with her strong stance against online harassment, particularly against women.
"No mother should have to answer the door to the police in the middle of the night and fear for her family's safety simply because an anonymous person disagrees with her," Clark said in a statement.
In November, she joined with Rep. Patrick Meehan (R-Pennsylvania) to introduce the Interstate Swatting Hoax Act of 2015. The bill was put forward after a string of swatting incidents in Clark's district. Meehan is a former US attorney and local prosecutor.
"I'm relieved that no one was hurt, but the sad reality is, these hoaxes known as 'swatting' are a danger to victims, first responders, and our emergency preparedness," Clark told WBZ. "This is the exact reason that I introduced the Interstate Swatting Hoax Act – I want perpetrators to know that there are legal repercussions to their actions, and I'm committed to giving law enforcement the tools to deter these dangerous crimes."
The bill would make swatting a federal crime and would mete out increasingly stiff fines and penalties, including up to life in prison if the hoax results in death.
Clark laughed when the Boston Globe asked her if she would be less vocal about the issue of swatting after the incident.
"If that was the intent of calling in this event," she replied, "I think they have underestimated my commitment to making sure that we do stop this practice."
Instead, she continued, the experience "will really cause me to double down."
The FBI estimates there are 400 swatting incidents around the country every year. Such hoax calls have cost local law enforcement agencies as much as $100,000 an event.
You can share this story on social media: