Swatting of Colorado gamer's office livestreamed on the internet (VIDEO)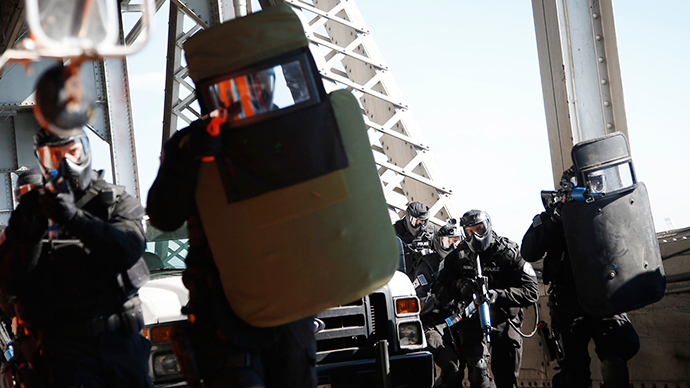 An internet prank on Wednesday this week ended with the storming of an office building in Littleton, Colorado by heavily-armed SWAT police while computer gamers watched the raid unfold live on the internet.
Jordan Mathewson, co-founder of The Creatures online gaming company, told a local ABC News affiliate that around 3,000 people were watching online early Wednesday as he broadcasted the gameplay of a popular first-person shooter along with a live feed taken from his computer's webcam. Things nearly took a turn for the tragic, however, when around two hours in he heard what turned out to be a barrage of tactical officers racing through his building.
A recording of the live feed that was being streamed over the web shows Mathewson cautiously removing his headphones and saying "I think we're getting swatted" moments before a team of cops clad with rifles burst into his office with guns drawn and order him to the ground.
Indeed, Mathewson was being "swatted," a growing trend in which a person anonymously files a false crime report, like a murder, in hopes of provoking the type of police response with the potential to ruin just about anybody's day.
"I knew almost right away what exactly was happening," he told Denver's 7News. "But I was still frightened, you know? Having some guns pointed at you isn't exactly the most common thing."
Shortly after the incident occurred, the Littleton Police Department confirmed in a statement that they were responding to an emergency situation at The Creatures office which turned out to be untrue.
"The caller claimed to have shot two co-workers, held others hostage, and threatened to shoot them. He stated that if the officers entered he would shoot them as well," the statement read in part. "There were no victims or any evidence that a shooting had taken place," police said. "If the investigation determines that today's incident was a hoax, those involved will be prosecuted to the fullest extent of the law."
Really jacked up. This is the scene atm. Still no sign of @kootrapic.twitter.com/wwuogioq1p

— James (@UberHaxorNova) August 27, 2014
On Twitter, a user with the screen name @ScrewPain was the first to post video of the raid, 7News reported, and admitted to being the guilty party responsible for swatting Mathewson, who is known in the gaming community under the handle "Kootra."
"I did it because I can," ScrewPain told a 7News correspondent over Twitter.
"I have watched The Creatures for some time now," he added. "I've had their info for about a week [and] waited until they streamed and then called it in."
According to the person behind the ScrewPain handle, he was already being questioned by agents from the Federal Bureau of Investigation just hours after the swatting occurred.
Speaking to 7News, the chief of the Littleton Police Department warned other would-be swatters that making false reports can have yield very serious consequences.
"This is not a game. This is not an online game. We have real guns with real bullets, and there's a potential there for some tragedy," said Chief Doug Stephens
"People on the internet really like the anonymity of being online and being able to get away with stuff and they like to test it sometimes," Mathewson added to 7News during a Wednesday night interview. "You can see it's turned into something a little more serious."
Dag nabbit that was dern sure an experience. I am all Ok though. Thanks for all the supportive tweets everyone

— Kootra (@Kootra) August 27, 2014
As RT reported previously, the FBI believes swatting incidents resulted in more than $250,000 in loses to emergency responders and telecommunications providers between 2002 and 2006.
"It's a pretty dangerous thing to do," tech reporter Brian Krebs, a victim of swatting, said last year after his house was raided. "You're putting a lot of people's lives at risk. If somebody kicks in your door, I could imagine situations where people who are armed and in their home fire back at an intruder who claims to be the police. And what a mess that would be."
This week's incident unfolded in Littleton, Colorado — not far from either the site of the Columbine High School massacre in 1999 or the tragic Aurora, CO movie theatre shooting last year. In those incidents, 12 and 15 people died, respectively, during armed rampages. According to 7News, the region has experienced several swatting incidents stemming from false reports dating back to at least 2005, and Wednesday's ordeal forced officials to place no fewer than two area schools on lockdown.
You can share this story on social media: