SWATting: a new weapon against journalists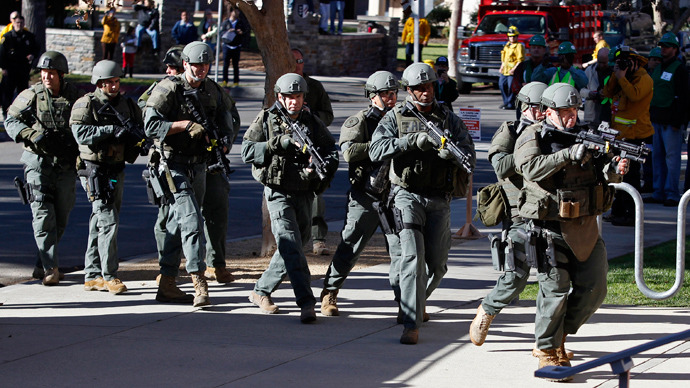 A technology journalist that spent over a decade with the Washington Post was caught off-guard by a group of militarized cops on Thursday after a vicious prank put the SWAT team at the front door of his Northern Virginia home.
Reporter Brian Krebs says he became the latest victim of "swatting" this week when a Special Weapons and Tactics team was dispatched to his Fairfax County home to respond to falsified reports of an armed burglary.
Krebs broke the news over his personal Twitter account on Thursday afternoon by tweeting, "wow. fun day. house just got SWATted." Speaking to the website ArsTechnica later that evening, he laid into the incident with a bit more detail.
According to Ars writer Dan Goodin — a friend of the victim — Krebs was preparing for an evening dinner party at his house when he opened the front door and was surprised by a squadron of heavily-armed agents.
"As soon as I open the front door, I hear this guy yelling at me, behind a squad car, pointing a pistol at me saying: 'Don't move. Put your hands up,'" Krebs recalls. "The first thing I said was: 'You've got to be kidding me.'"
On his Twitter account, Krebs says he told local law enforcement investigators that he expected to be swatted six months ago. "The guy didn't even know what swatting was," he says this week. When he opened the door and saw a squad of agents with guns drawn, though, he says he knew exactly what was going on.
"I knew immediately from the minute I saw the policemen behind the car what had happened," he tells Goodin. "You don't argue with someone who's pointing a gun. You don't argue when the police show up with overwhelming force. You just do what you're told and explain it later."
Once the situation calmed down, Krebs says he explained that the entire event was the result of a prank perpetrated by unknown actors and that the SWAT team had been deployed to a non-emergency.
"There's a tendency for people to think this is a fun game," he says. "It's a pretty dangerous thing to do. You're putting a lot of people's lives at risk. If somebody kicks in your door, I could imagine situations where people who are armed and in their home fire back at an intruder who claims to be the police. And what a mess that would be."
Even after law enforcement learned what had happened, however — and that Russian thieves had not actually broken into his home and shot his wife like a police dispatcher was told — Krebs still isn't sure who had it out for him. With a lengthy career as an investigative reporter, though, he thinks it wasn't just a wild coincidence. As Goodin puts it, "some bad people don't like him."
"As a savvy reporter who has chronicled hacking crimes for more than a decade, Krebs has long been on the receiving end of attacks. His site, KrebsonSecurity, is regularly knocked offline by DDoS attacks—presumably by people who are unhappy that the articles he publishes threaten their illicit livelihoods or tarnish their reputations," writes Goodin.
What's more, adds Krebs, is that the last round of distributed denial-of-service attacks aimed at his website occurred only hours before he was swatted — and he thinks he knows why.
Earlier in the week, Krebs wrote on his blog about a website RT profiled on Monday where credit reports and financial data belonging to FBI Director Robert Mueller, first lady Michelle Obama and others were leaked. "Sadly, Social Security numbers and even credit reports are not difficult to find using inexpensive services advertised openly in several cybercrime forums," Krebs wrote, mentioning one site in particular: ssndob.ru. Later on Twitter, Krebs wrote, "the nice folks at ssdob dot ru are upset b/c I told the world that you don't need their crappy service to steal someone's credit report." Two hours after that tweet, he says he was swatted.
"never fun to have assault rifles pointed at you," he tweeted.
You can share this story on social media: