Teen arrested, linked to online gaming group known for swatting, bomb threats nationwide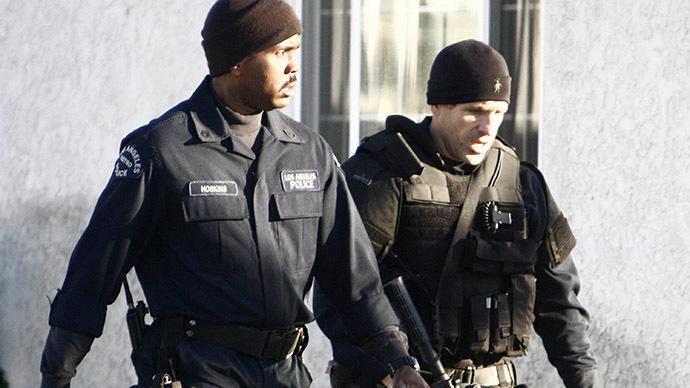 Police in San Diego, California arrested a teenager for making bomb threats against an area high school. The minor was linked to an online gaming group responsible for bomb threats and "swatting" incidents in five other states and a Canadian province.
The San Diego Police Department arrested the teen on Wednesday in connection to three bomb threats against Point Loma High School on April 5 and 6. When executing a search warrant, the suspect was linked to an online gaming group responsible for making threats and perpetuating "swatting" incidents in California, Georgia, Michigan, Massachusetts, Texas and Illinois, as well as two cities in Ontario, Canada.
Police in the other five states arrested additional suspects, the San Diego PD said in a statement.
"Swatting" is a growing trend in which a person anonymously files a false crime report, like a murder, in hopes of provoking a police response with a fully armed tactical SWAT team bursting in on the unsuspecting victim. The hoax perpetrator, often a member of an online gaming community, usually watches the raid unfold via a livestream on the victim's web camera.
READ MORE: SWATting: a new weapon against journalists
"The San Diego Police Department takes these types of threats very seriously. Oftentimes, they result in the costly deployment of emergency response resources, including specialized personnel and equipment," Lt. James Keck wrote in the agency's statement. "This level of response is determined to be appropriate based on the information received in order to ensure public safety."
The FBI believes swatting incidents resulted in more than $250,000 in losses to emergency responders and telecommunications providers between 2002 and 2006.
"There's a tendency for people to think this is a fun game," reporter and swatting victim Brian Krebs told Ars Technica in 2013. "It's a pretty dangerous thing to do. You're putting a lot of people's lives at risk. If somebody kicks in your door, I could imagine situations where people who are armed and in their home fire back at an intruder who claims to be the police. And what a mess that would be."
When a SWAT team is deployed, nearby homes, schools and businesses are often evacuated or locked down.
At the beginning of 2014, an anti-swatting law went into effect in California, requiring those convicted of falsely reporting an emergency to reimburse municipal departments that responded to the fake incident up to $10,000 for their services. Swatting is a misdemeanor that can also carry up to a year in jail.
Los Angeles has been the epicenter of swatting in California, with Hollywood celebrities often being the targets of the pranks. In 2013, the LAPD made a policy decision not to issue press releases after swatting incidents occurred, KPCC reported. Those wanting information about police responses to fake emergencies now must file public records requests.
The LA City Council also approved a motion that year allowing the city to offer rewards to people who help police identify the perpetrators of swatting pranks.
Despite these actions, some Californians are calling on the state to strengthen its penalties for swatting.
READ MORE: Swatting of Colorado gamer's office livestreamed on the internet (VIDEO)
"I know people who have been SWATted. You can find them on every part of the political spectrum. They range from gamers to political commentators," blogger Ken White wrote on Popehat.com. "They're all damned lucky to be alive, as are their family members and pets. Calling an armed law enforcement response to someone's house is attempted murder."
White is asking the state legislature to make swatting a felony with a penalty of between three years and life in prison, a fine up to $75,000 or both, depending on whether there were injuries or deaths involved with the raid.
"Sending armed people to someone's house would be felony conduct even in a perfect world where police raids weren't dangerous," he wrote. "But we don't live in that world, as the cases above show. In our world, sending police to someone's house to respond to a false report of violence is depraved indifference to human life."
San Diego PD took the teen accused of the bomb threats into custody at Juvenile Hall. They did not reveal the exact charges or if the minor is a student at Point Loma High.
You can share this story on social media: