Miami Vice: Cop pulled over by woman for speeding (VIDEO)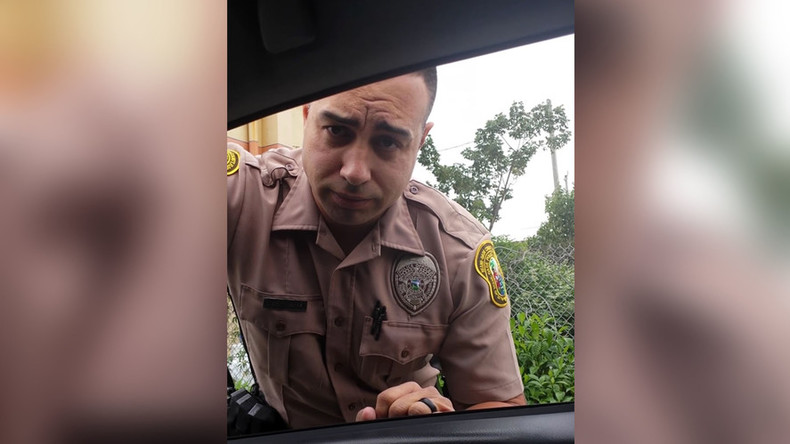 A woman took the law into her own hands by confronting a police officer when she spotted him speeding on the highway near downtown Miami.
Claudia Castillo was driving on the Palmetto Expressway, Friday, when she saw the cop putting his foot to the floor.
She decided to document the incident by making two videos of her narrating what was happening while she was driving, followed by a third video of her lecturing the officer.
She alleges he was driving recklessly at speeds of 80 to 100mph.
"No one is above the law, .. you need to set an example, you need to show what's the right thing to do," Castillo says in the second video.
Castillo succeeded in getting the officer to pull over, telling him: "The reason I pulled you over today, and I'm asking you to come over and have a conversation is because… you were pushing 90 miles an hour."
The officer, who said he was on his way to work, listened attentively to her concerns but denied he was speeding.
"I don't believe I was speeding, but I guess that you're entitled to your opinion," he said.
Nevertheless, he apologized and told Castillo he would slow down
Castillo reiterated she believed "we should all set an example," to which the officer agreed.
The video clips quickly went viral and resulted in the Miami-Dade Police issuing a statement.
"The Miami Dade Police Department will have his immediate command staff investigate the matter, once the officer and citizen are identified. The appropriate course of action will be taken at that point," it read.
Castillo told WSVN she has no regrets about uploading the videos: "I think it was the right thing to do. if it were to happen again i would do it again"
READ MORE:Black people in Florida ticketed twice as often as whites for seat belt violations – ACLU
You can share this story on social media: