'Raise theft'? Senate catering firm strips low-wage workers of promised raise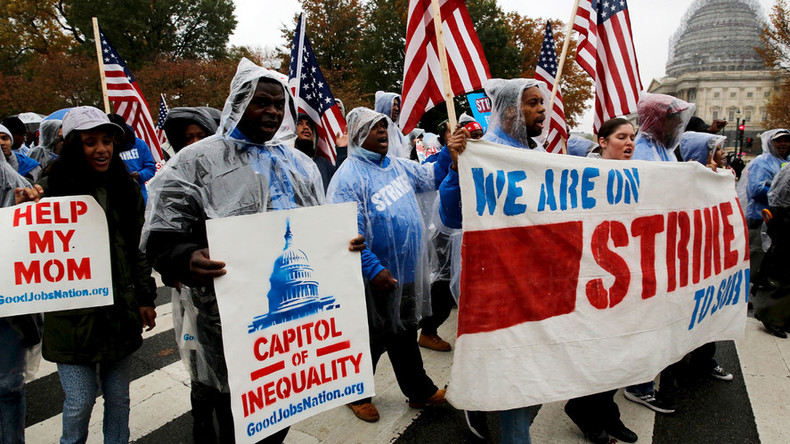 A little over a month after winning a slight raise to their paychecks for serving the Capitol, some Senate food workers have allegedly been illegally stripped of their wage increase.
Following a series of strikes and a long fight dubbed "15 & Under," low-wage Senate workers gave a sigh of relief last December when they were finally promised a raise.
Under a new seven-year agreement between the Senate Rules and Administration Committee and Restaurant Associates, which runs a cafeteria for lawmakers and others, the cafeteria workers were to receive a pay increase of roughly $3 an hour.
"I am thankful for the employees that do so much for the Senate day in and day out, and I am glad their concerns were heard and taken into consideration in the new contract," Senator Roy Blunt (R-Missouri), chairman of the Senate Rules and Administration Committee, said at the time.
The changes announced on December 14 put Senate workers "on par with blue-collar employees elsewhere in the Capitol complex," as Good Jobs Nation, a labor organization that helps low-wage workers, phrased it.
The new contract stipulated that minimum wages for Level 1 cooks would be raised by $3.65, to $17.45 per hour, while Level 2 cooks would be making up to $19.50 per hour, which is $5.70 more than previously. For low-wage Senate workers and their supporters – labor activists and politicians – the gains in the new contract were considered a victory.
However, their triumph was reportedly short-lived. What has been dubbed by worker advocates as "raise theft" surfaced on January 14, when Good Jobs Nation filed a complaint with the US Department of Labor claiming that several cooks had been reclassified and, consequently, stripped of their higher wages.
Like many of his colleagues, 45-year-old Bertrand Olotara, a single father of three, has to work at two jobs seven days a week to make ends meet.
"I hate to admit it, but I have to use food stamps so that my kids don't go to bed hungry," he wrote in an op-ed in the Guardian in April.
Up until mid-December, he was cooking for the Senate for $12.30 per hour. The new contract promised him $17.45 per hour, but a cafeteria manager demanded Olotara sign papers that changed everything.
"I'm a cook, and I've always been a cook," Olotara told the Washington Post. "Now suddenly he's telling me I'm a 'food service worker.'"
However, while his duties remained unchanged, his title and chance to earn a bigger paycheck evaporated. As a "food service worker," Olotara is now only entitled to $13.80, meaning that his raise only amounted to $1.50 more per hour, instead of $5.15.
As he told the Roll Call newspaper, with at least $15 per hour he would have been able to quit Whole Foods, where he works weekends.
Olotara said he did not sign the papers and is going to continue his fight.
"I didn't agree because I'm not a food service worker, and I didn't sign the paper," he said.
According to Good Jobs Nation, there are at least six other stories like Olotara's, the Washington Post reported.
In its complaint to the DoL, the labor group accused Restaurant Associates, a subsidiary of the British-based Compass Group, of breaching the Service Contract Act, which establishes minimum wages for contract employees. The Act also prohibits employers from changing position ranks and titles for the sake of profit.
Good Jobs Nation has asked the US government to look into the allegation and require Compass Group to pay Senate workers higher wages, as well as back pay related to the lower classifications. The Senate Rules and Administration Committee has said it is aware of the issue and had already directed the Architect of the Capitol, which negotiated the contract, to look into the claims.
"We are aware of existing concerns and are working to get them resolved," AOC spokeswoman Laura Condeluci wrote in a Friday email, according to Roll Call.
Restaurant Associates spokesman Sam Souccar said that company officials received notification yesterday that a complaint had been filed and "are looking into the matter."
Heartbreaking stories of Senate service workers, long ignored, have been making it into the headlines in the past year or so.
For example, a single mother named Kim employed in the Senate had to supplement her salary working as a stripper. Another case was that of 63-year-old Charles Gladden, who, while working alongside lawmakers and politicians, cannot afford a roof over his head. He has to sleep at a metro stop within walking distance from the White House.
There is also Sontia Bailey, who had been working a full-time shift at the US Capitol before making her way to her second job at a fast food restaurant. Working 70 hours a week, she eventually suffered a miscarriage, but had no time to grieve the loss of her child, as she had to go back to work.
You can share this story on social media: