Senate cafeteria worker comes out as stripper as lawmakers spar over min. wage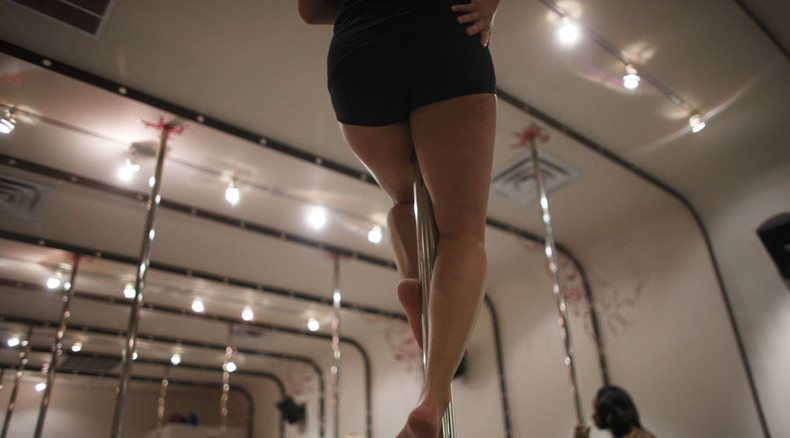 A day after the Republican debate barely touched on inequality in the US or stagnant wages, a single mother employed in the Senate said she supplements her salary working as a stripper to make ends meet.
The single-mother, identified as Kim, said she grosses $10.33 an hour working full-time in the Senate cafeteria, employed by a British-owned contractor. Kim said she has a $600 hole in her budget every month doesn't make enough to support her and her son.
"When I realized that I couldn't survive on what I was making at the Senate, I made a difficult decision," said Kim, whose account was published in the Guardian. "Faced with eviction notices and unpaid bills, I decided to dance at a strip club a few nights a week to earn extra money. It was the only job I could find that let me work a flexible schedule and earn a living wage."
"I don't want to be a stripper: It can be demeaning to dance for men who show no respect for women. I only do it out of necessity, because I have to support my son."
READ MORE: New York State recommends $15 minimum wage for fast-food workers
On top of low wages, Kim gets a layoff notice every time the US Senate goes on recess, which means no paychecks for eight to 10 weeks a year.
The financial hardship of the cafeteria workers caught the attention of Senator Sherrod Brown (D-Ohio), who wrote a letter to the Senate Rules Committee to complain about the low ages, according to the Hill.
Brown was supported by 43 of his Democratic colleagues in the letter, as the Senate committee renegotiates its contract with the Restaurant Associates regarding cafeteria and catering employees.
"We are concerned about the treatment and pay of Restaurant Associates' employees. Numerous news reports have exposed the severe impact of low wages on workers' lives," wrote the senators in the letter.
Many of the Senate workers rely on government programs like foods stamps to feed their family, or they take up other jobs.
The letter said workers had ongoing complaints about reduced work hours and an intimidating work environment at Restaurant Associates. It also said workers had complained that the contractor assigned fewer workers to catering events leading to understaffed events and overworked employees.
"The US Senate should serve as an example for all employees, and the workers who support the work of the US Senate must be given respect and the opportunities they deserve," said the letter.
READ MORE: Los Angeles City Council approves $15 an hour wage hike
Brown and his colleagues said if the contractor can't increase wages then the contract should be terminated and another vendor found.
It's unclear how Republicans will react, but they have argued that increasing wages to $15 an hour would hurt businesses.
Brown, along with Democratic presidential candidate Senator Bernie Sanders (I-Vermont), is a co-sponsor of the Pay Workers a Living Wage Act, which would raise the federal minimum wage to $15. Currently the federal minimum wage is $7.25, but it is set to increase to $10.10 an hour by 2016, a level that many think is still too low to actually live on.
"I've served the nine current and former US senators who are running to become the next president of the United States," Kim wrote. "But while my customers give speeches in Iowa and New Hampshire promising to deliver the American Dream to hard-working people, they aren't lifting a finger to help the workers like me who serve them every day; not everyone has another job, but it's almost impossible to support even a small family without one."
You can share this story on social media: