DC area in state of emergency ahead of massive weekend blizzard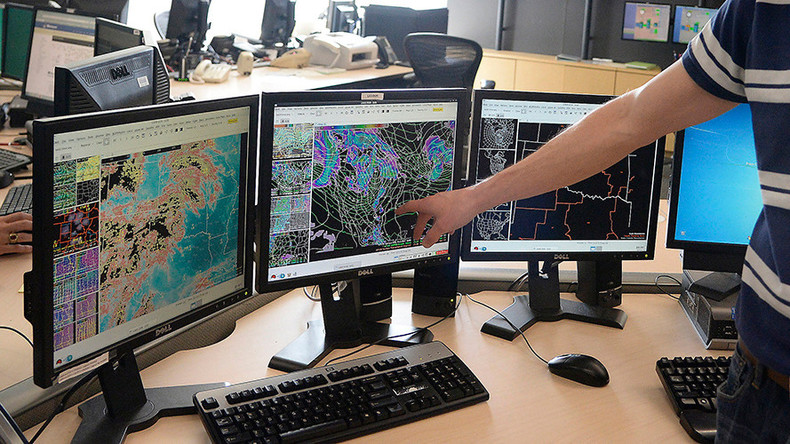 In anticipation of a historic snowstorm, the mayor of Washington, DC and the governors of Maryland and Virginia have declared a state of emergency. An inch of snow caused the collapse of transport in the nation, and residents started stockpiling food.
Authorities promised to ready resources for a quick response to the two feet of snow that has been predicted. More snow is expected in DC's western suburbs, which are expected to see between 24 and 30 inches of snow, while eastern parts of the region will see between 18 and 24 inches.
"We're preparing for a blizzard. I've lived in DC for almost my entire life, and I don't know that I've lived through a forecast like this. It is an extremely large storm," said DC Mayor Muriel Bowser, according to DCist.
The District's state of emergency will go into effect after the morning commute at 9:30am. Bowser advised residents to use their good judgment and to avoid roads during the 36 hours of the storm, which is expected to bring high winds and whiteout conditions.
This comes just after the DC metro area was hit by Wednesday snowfall that only amounted to an inch, but still caught officials by surprise and led to over 150 car accidents. Leaders in the region apologized for their lack of preparedness for the weather, and said that they are ready for Friday's much larger storm.
"We are sorry for an inadequate response. We did not provide the resources and we should have been out there earlier," Bowser said during a Thursday morning press conference.
Power outages are likely during the blizzard, which is expected to occur from 3:00pm Friday to 6:00am Monday.
Maryland Gov. Larry Hogan announced that a state of emergency would go into effect at 7:00am on Friday. He said that the State Highway Administration has been treating roads, and that highways wills be a top priority.
"It could take them days, even a week, to dig out local roads. Be prepared and patient," Hogan told reporters at a press conference.
Maryland authorities are employing 2,700 pieces of equipment into service and is distributing 365,000 tons of salt.
Virginia Gov. Terry McAuliffe declared a state of emergency on 8:00am Thursday, citing potentially record-breaking snowfall and winds.
"All Virginians should take the threat of this storm seriously and take necessary precautions now to ensure they are prepared for travel disruptions and possible power outages during a cold weather period," McAuliffe said.
Already, 3,000 flights have been canceled for Friday and Saturday, CNN reported.
The DC metro will be suspending all services starting Friday at 11:00pm and will remain closed all day Saturday and Sunday. Hundreds of trains will be protected from the storm by being stored in tunnels. Bus service will be stop running at 5:00pm on Friday.
"This is not a storm that anyone should take lightly, and I would urge all residents to plan to get to a safe place before the storm arrives Friday afternoon," Metro General Manager Paul Wiedefeld said in a release. "The actions we are taking today are all in the interest of our customers' and employees' safety, and will help us return to service once the storm passes and the snow is cleared."
You can share this story on social media: