Teachers shut down nearly all Detroit schools with "sickout"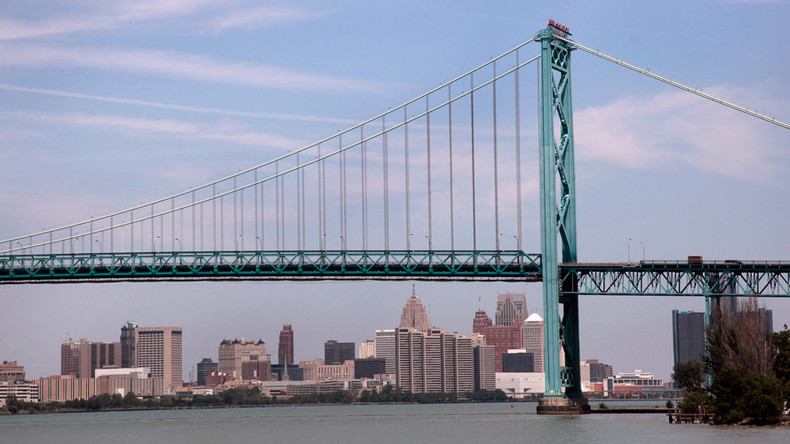 At least 88 out of Detroit's 100 schools were closed after teachers staged a sickout, the largest in a series of protests that aim to bring light to issues the school system faces. The protest coincided with the president's arrival in the Michigan city.
Because it is illegal for public school teachers to engage in strikes in Michigan, educators coordinated calling out sick on Wednesday, forcing the vast majority of Detroit's 46,000 students to stay home for the day.
READ MORE: Teachers in Detroit on 'sickout' strike against crumbling, pest-ridden schools
The protest was planned to coincide with President Barack Obama's day trip to Detroit on Wednesday. He will visit the city to toast the US automotive industry's rebound at the North American International Auto Show.
While many view the auto industry's resurgence as an important victory for the perennially declining Detroit, educators have a much different story to tell.
Teachers complain of inadequate funding and dilapidated buildings, and say that decisions made by the school system's governor-appointed emergency manager disenfranchise city residents.
"The students have been forced to go to school in conditions that are not very good conditions for a learning environment, there's black mold, there's no hot water," Michigan State Rep. Sherry Dagnogo told RT."All of this has taken place under state control. Currently the school system is under its fourth emergency manager, Darnell Earley."
Earley, who also served as emergency manager in Flint from 2013 to 2015, accused of teachers participating in the sickout of "using students as pawns to advance a political position."
Dagnogo, however, called this characterization "totally unfair."
"Teachers have taken concession after concession. They thought these concessions would lead to better conditions," she told RT. "[Earley] poisoned children in flint with the water, and [he poisons] children in Detroit with inadequate school buildings."
"We're asking them to reduce class sizes, have a safe, clean environment, and supplies and access to technology. No more emergency managers, we are calling for a return to democracy," Dagnogo said.
Mayor Mike Duggan has asked teachers to stop staging sick-outs, but to instead wait for state lawmakers work on solving the city's financial troubles. He said that Detroit teachers' "frustrations are legitimate, but the solution is not to send the kids home."
Michigan Governor Rick Snyder, a Republican, encouraged lawmakers on Tuesday night to pass bills overhauling the school system by spending more than $700 million over the course of a decade and by splitting the district into two.
More than 60 schools were forced to close on January 11 because after teachers organized to take unauthorized sick days, with smaller sickouts also occurring at other times. The city has responded to these protests by sending officials to inspect schools for code violations.
You can share this story on social media: