Teachers in Detroit on 'sickout' strike against crumbling, pest-ridden schools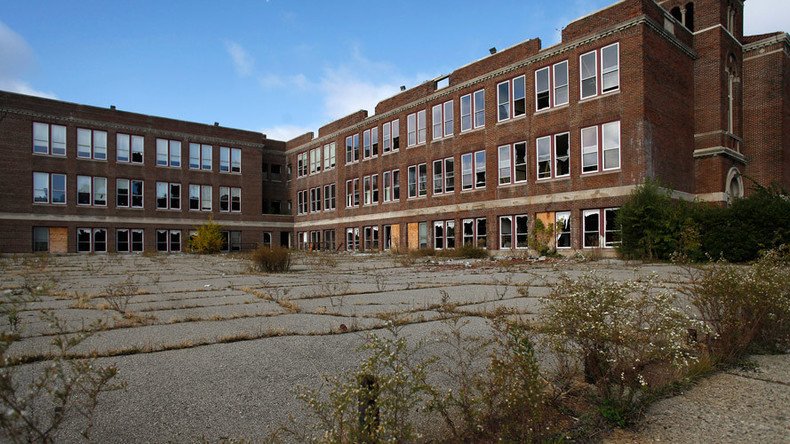 Detroit, Michigan teachers have been calling in sick to protest working conditions, forcing a number of schools to close. Buildings are falling apart, while rats and roaches roam the hallways; teachers blame the state-appointed emergency manager.
Five schools were closed on Wednesday, down from 24 on Tuesday and 64 on Monday, due to teacher absences. Michigan law prohibits teacher strikes, with fines up to $5,000 a day for teachers involved, but a "sickout" is technically not a strike.
According to examples provided by the Detroit Federation of Teachers (DFT), one high school "is literally falling apart." A special education school has "infestations of rats, other rodents, roaches and bed bugs." At a preparatory academy, "pieces of the ceiling are falling on kids' heads," while one elementary school has "a classroom without power due to black mold in the wiring."
Detroit Mayor Mike Duggan visited several schools on Tuesday, to personally see the health and safety violations that teachers have complained about. He described the conditions in some schools as "deeply disturbing," according to the Detroit News.
Duggan blamed the Michigan governor for the crisis, pointing out that the Detroit school district has been under state emergency management since 2009.
"One third of the money in the district is being dedicated to the debt and not to fixing leaky roofs," the mayor said. "We're heading toward seven years of state takeover and test scores are low, and there's a bigger deficit than before. After seven years of running the schools, the state needs to do something."
The current emergency manager of Detroit Public Schools is Darnell Earley. Appointed in 2013, Earley previously served as emergency manager of the nearby city of Flint, making the controversial decision to supply the city with water from the Flint River. High levels of lead recently discovered in Flint's water supply have prompted the government to invoke a state of emergency, with police and Michigan National Guard now going door-to-door distributing drinking water to residents.
Last Thursday, Earley held a press conference to blast the protesting teachers.
"Using students as pawns to advance a political position in my opinion is not only unacceptable, it is also very unethical," he said, according to the Detroit Free Press.
It is not the teachers who are using students as pawns, Pam Namyslowski, a 4th grade teacher at Mann Elementary School, fired back. In a Facebook post that attracted widespread attention this week, Namyslowski accused the state supervisors of running schools like businesses.
"We have watched the debt increase to ridiculous, unsustainable levels under state appointed emergency managers, while the conditions we teach in have deteriorated alarmingly," she wrote.
Anna Heaton, a spokeswoman for Governor Rick Snyder (R-Michigan), acknowledged that the school system was spending enormous amounts of its funding to service debt.
"Right now, the district pays a figure equal to $1,100 per child for debt service. That's money that can best be spent in the classroom, and why discussions on important reforms are continuing," Heaton told CNN.
The "sickout" protest appears to be led by Steve Conn, a teacher at Western International High School. Conn was president of the DFT, a 4,000-member union, between January and September last year, before he was ousted in an acrimonious battle with other members of the board.
"We brought these issues about a lack of resources and unacceptable working conditions — there was a list of things — and nothing happened," DFT interim president Ivy Bailey said, noting that the union did not support the sickout, but was standing by the teachers on principle.
"When you are backed into a corner, this is what happens," she said. "It shouldn't have come to this. Some time, sooner or later, they must put the children first."
You can share this story on social media: