Police become door-to-door water delivery men in Flint as White House watches crisis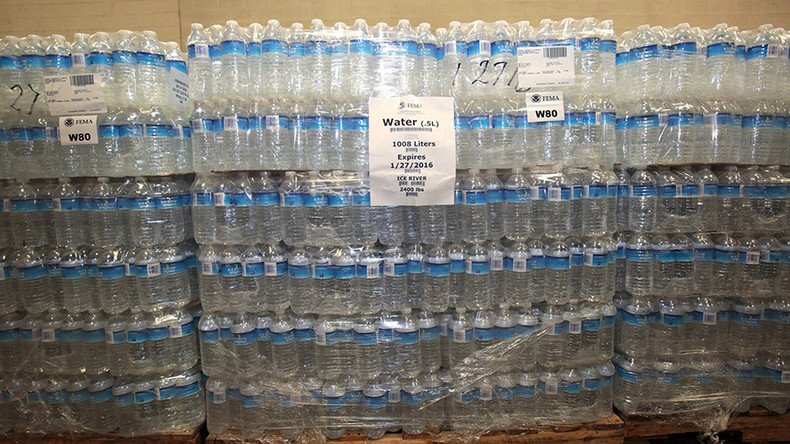 Michigan State Police troopers will deliver bottles of water and water filters door-to-door in response to Flint's contaminated water crisis, while the White House says it is watching the public health emergency "very closely."
Michigan Governor Rick Snyder said "water resource teams" composed of state personnel, including state troopers, would begin the distribution on Tuesday.
"If a resident is not home when a team stops by, a flyer with information on how to receive these free water resources will be left at their residence," said Governor Snyder in a press release on Sunday.
Flint's contaminated water problem began in April of 2014, when, in a cost cutting measure under a state-appointed emergency manager, the city switched from Detroit's water supply to water from the Flint River.
Despite the water having high salt content, it was piped untreated into homes and offices. The salt corroded the lead in the pipes, causing the water to become contaminated. Residents then began complaining about dirty water with a bad smell and taste, as record high lead levels started appearing in the blood samples of children. The city switched back to Detroit's water supply in October, but only after months of complaints and protest from residents, who were angry that the government had ignored alarms raised by doctors and scientists.
Under the emergency effort announced by Snyder, Flint residents will also receive replacement filter cartridges and water testing kits. The deployment comes days after the governor declared a state of emergency on January 5, which immediately led multiple state agencies to begin providing assistance.
The second part of the response will be to form a Flint Water Interagency Coordinating Committee to "analyze the long-term effect of high lead levels in Flint residents and recommend action," said the governor in a statement released on Monday.
"We need to focus on improving Flint for the longer term," said Snyder in the statement. "This committee, made up of experts from government and the Flint community, will set a course of action to remedy the water situation and resulting health issues, and carry on long after the emergency declaration expires."
The emergency declaration is set to expire in February.
NBC News reported on Friday that emails it had obtained showed that high-ranking officials in Michigan were aware of elevated lead levels in Flint's water six months before the state of emergency was declared. About 200 Flint residents rallied outside City Hall on Friday calling for the governor to resign or face criminal charges over the scandal.
The call is supported by Flint's most famous former resident, filmmaker Michael Moore, who first drew attention to the rampant poverty that gripped the city after the motor industry ditched the town in one of his early documentaries, Roger & Me.
Moore started a petition on his website calling for the governor to be arrested on charges of corruption and assault. Moore directly addresses Snyder on his website, saying "The facts are all there, Mr. Snyder. Every agency involved in this scheme reported directly to you. The children of Flint didn't have a choice as to whether or not they were going to get to drink clean water."
The Flint water scandal has also caught the attention of the White House. Appearing on NBC's "Meet the Press," White House Chief of Staff Denis McDonough told host Chuck Todd that Flint's water emergency is on the administration's radar.
"Obviously very concerned about it, but I don't have any news to make with you on that today, Chuck," McDonough said, according to the Detroit Free Press. "We're watching it very closely, but nobody has asked us anything yet."
You can share this story on social media: