#FlintWaterCrisis hashtag reveals how evidence of lead contamination unfolded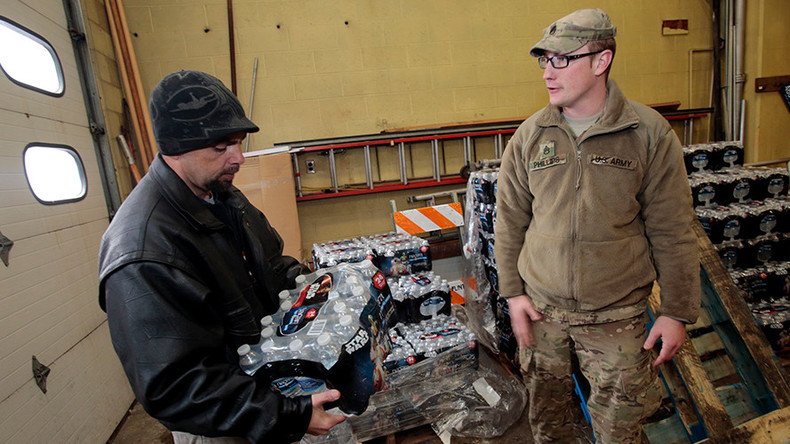 Residents of Flint, Michigan have taken to social media to highlight the extent of the contaminated water in their city ‒ the result of highly corrosive river water stripping toxic lead off pipes, researchers say.
With troops from the Michigan National Guard now on the ground to deal with the escalating water crisis, here is how the situation has unfolded online:
An independent team of researchers from Virginia Tech, the City of Flint Water Service Center, the Michigan Department of Environmental Quality and the American Civil Liberties Union of Michigan tested samples and concluded that "Flint has a very serious lead in water problem."
The fact people have been made to fork out money for the brown drinking water has been likened to paying to "slowly poison yourself".
President Barack Obama declared a federal emergency in the area on Saturday, some two years after city officials sought to save money by switching the water source from Lake Huron to the Flint River, now known to contain high levels of chloride.
In April 2014, Michigan officials raised a glass to shutting off the fresh water lake supply managed by the Detroit Water and Sewerage Department, calling it "an historic step."
Soon after, Flint residents started complaining about their drinking water, and the city issued a number of boil notices that summer following fears that fecal coliform bacteria was present in the water supply.
Problems were further apparent in October 2014, when General Motors announced it would no longer use Flint water because it was rusting and corroding metal materials.
In March 2015, Flint officials announced the city was setting aside $2.4 million to tackle a water quality issue.
However, it wasn't until after a September study by Dr. Mona Hanna-Attisha showing that lead in children's blood had almost doubled since the water switch that the state began to officially acknowledge the serious toxicity issue.
Hanna-Attisha, a pediatrician at Flint's Hurley Medical Center, told RT that the highest readings she and the state recorded for elevated blood levels in Flint were 38 micrograms per deciliter.
She added: "In the 1920s, people used to take lead pills to induce abortions."
"How many less children were born because of this [water contamination]? That's what we're looking at right now."
On January 5, Governor Rick Snyder (R-Michigan) declared a state of emergency. and fire services began distributing bottled drinking water to local residents.
A sharp increase in Legionnaires disease this month is now being investigated by state officials.
On Saturday, Democratic presidential hopeful Bernie Sanders said Snyder should resign over his handling of the situation.
"There are no excuses. The governor long ago know about the lead in Flint's water. He did nothing. As a result, hundreds of children were poisoned," Sanders said in a statement.
"Thousands may have been exposed to potential brain damage from lead. Gov. Snyder should resign," he added.
Pop star Cher has been among celebrity figures offering their support in the wake of the Flint crisis. Teaming up with water company Icelandic Glacial, she has donated more than 181,000 of bottles of clean water to the cause.
Meanwhile, outspoken filmmaker and Michigander Michael Moore has said Snyder should face criminal charges over the contamination.
You can share this story on social media: