KKK tries to hijack Martin Luther King Day by distributing hateful recruitment flyers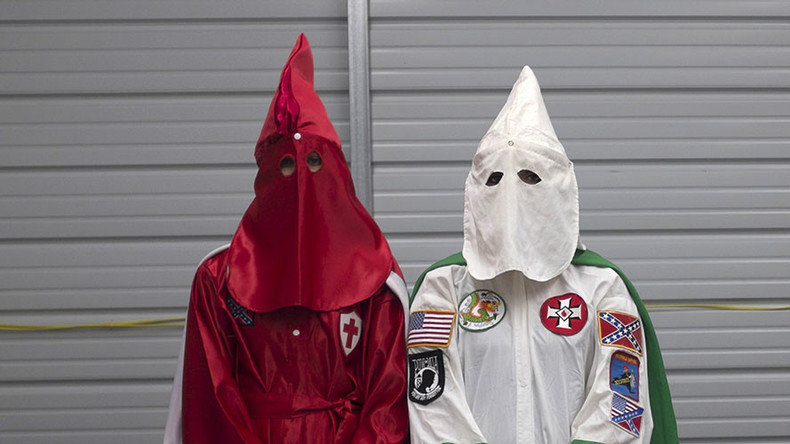 Residents in towns in at least three US states were targeted by a Ku Klux Klan recruitment drive ahead of Martin Luther King Day.
The group left flyers inside plastic sandwich bags, weighing them down with rocks, on lawns in neighborhoods in Mobile, Alabama; Annaheim in California's Orange County and in two boroughs in New Jersey's Monmouth County, Red Bank and Fair Haven.
They featured an image of Martin Luther King and a "happy birthday" message.
"The blacks have NAACP, the Mexicans have La Raza, the Jews have JDL, and white people have the KKK," it stated.
The leaflets are fulls of racial slurs and misinformed racist claims. They also include contact details for the Loyal White Knights, including a phone number which leads to a graphic voice recording that condemns King's actions during the Civil Rights movement.
In Alabama residents of Mobile's Midtown neighborhood received dozens of leaflets on their lawns over the weekend, according to Local15TV.
Locals told the station they were shocked by the flyers that used the peaceful activist's icon to spread hate and racism.
"Luckily I didn't get one on my door. I think a neighbor must have come by and grabbed it before we could see it, but I'm kind of shocked to see something like that on our street," Tricia Butts said.
"I don't want my children to see something like that. My children are loved and they are safe and that's what is important to us. To see a message like that is very contrary to what we believe," Butts said.
Homes in Red Bank and Fair Haven, New Jersey had at least a dozen flyers scattered around the areas.
Police there said they are investigating it as a bias incident but they aren't labeling it a bias crime, according to NJ.com
"It itself, the fliers aren't a crime because they weren't targeting any specific group," Red Bank police Chief Darren McConnell told the news site.
In Orange County, residents of Anaheim also had up to three dozen flyers dumped on their lawns.
The propaganda, accompanied with a rock and lollipop was discovered between Harbor Boulevard and Anaheim Boulevard near Sycamore Street, according to Annaheim Police Department as cited by the OC Register
Last year residents of Santa Ana, Orange County were the targets of the KKK message.
#MLKDay trended yesterday as King's birthday was marked across the US.
READ MORE:Protesters across nation to demand higher wages, end to police brutality on MLK Day
The KKK have been upping their efforts with the flyer campaign in recent years. Last March they left thousands of flyers outside homes in Selma on the 50th anniversary of "Bloody Sunday".
READ MORE:Ku Klux Klan kicks off recruitment drive amid US economic woes
You can share this story on social media: