Ku Klux Klan kicks off recruitment drive amid US economic woes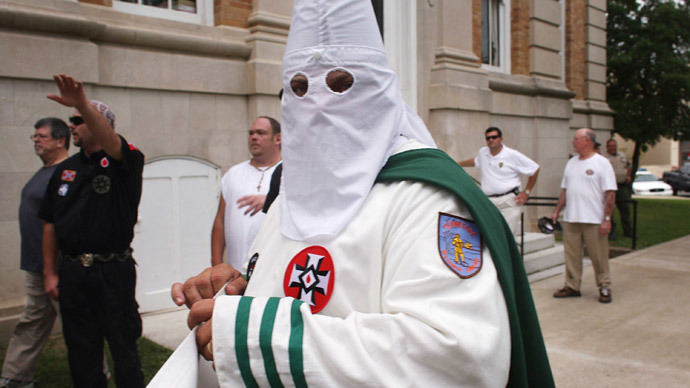 White supremacist organization the Ku Klux Klan looks determined to take advantage of a struggling economy, anger over immigration and wariness of America's first black president as it kicks off an aggressive new recruitment drive.
Borrowing a popular theme from US wartime propaganda posters, American neighborhoods in Texas, Louisiana, Illinois and Pennsylvania over the weekend discovered leaflets in their mailboxes and on car windshields that read, "The KKK Wants You!" - complete with a depiction of a hooded figure adorned with Klan insignia pointing at the reader.

The leaflets provide contact numbers for local recruiting offices, as well as "24/7 hotlines" and associated websites.

"Someone is passing out hateful flyers in the Acadiana area, telling Eunice residents the KKK is 'awake'," reported WGNO of New Orleans.

The flyers were signed by the "Loyal White Knights," which their website 'Loyal White Knights of the Ku Klux Klan' claims is "the largest and most active Klan in America."

The website goes on to spell out a litany of things the group hates: "We hate drugs, homosexuality, abortion, and race-mixing because these things go against God's law and they are destroying all white nations," it declares.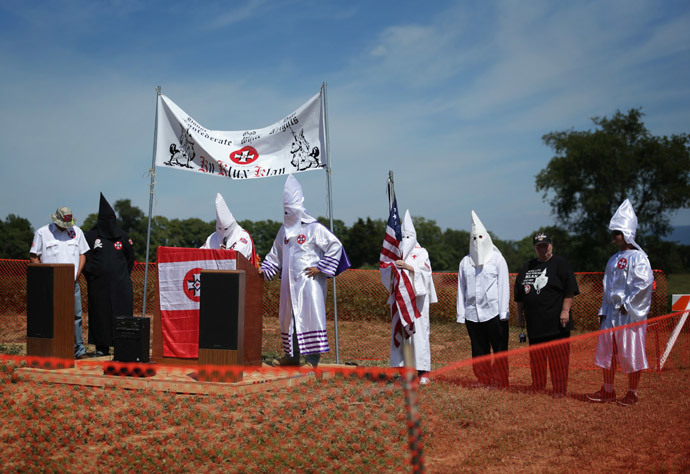 "Our goal is to help restore America to a White Christian nation founded on God's word."
Similar leaflets were reportedly distributed in the town of Rhome, a suburb of Dallas, Texas, in Waynesboro, Pennsylvania and in a predominantly black Chicago neighborhood.
"We do not need that type of problem in Wise County, Texas," said Sheriff's Office spokesman Capt. Kevin Benton.

"You wish it was something from the past, that you'd hope everyone had gotten beyond that," Benton told WHOU news.
Although the KKK is usually associated with a dark and occasionally violent page from America's past, the facts are telling a different story.

The Southern Poverty Law Center, a US civil rights watchdog, reported the number of hate groups has increased by 56 percent since 2000. This growth has been fueled by "anger and fear over the nation's ailing economy, an influx of non-white immigrants, and the diminishing white majority, as symbolized by the election of the nation's first African-American president."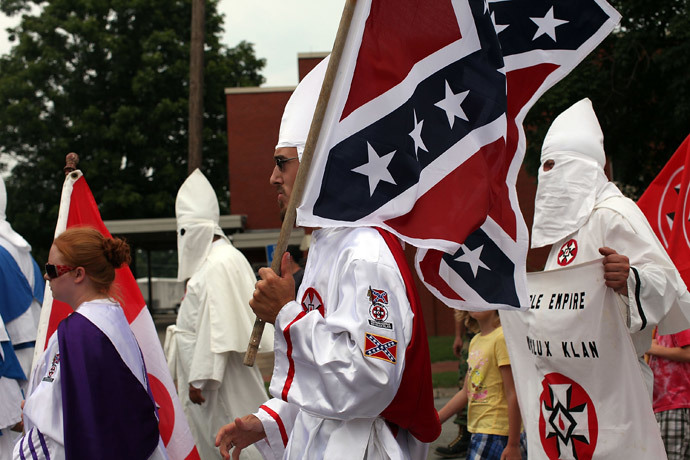 The number of so-called Patriot groups, including armed militias, surged following the election of President Obama in 2008 – rising 813 percent, from 149 groups in 2008 to an all-time high of 1,360 in 2012. The number fell to 1,096 in 2013, it said.

The KKK has also found renewed popularity in the wake of America's changing cultural landscape, which is becoming increasingly liberal.

The group is fiercely opposed to homosexuality and same-sex marriage, for example, hotly debated political issues that have in many states fractured the population down the middle.

A cursory look at the websites of one of its affiliated partners, The Knights Party, offers a list of articles: 'The Coming White Genocide', 'America, a Gay Refuge', and 'AIPAC courts Congress'. These reveal an assortment of KKK bogeymen in its menagerie that provide the necessary level of fear for recruitment efforts.

Forced to change tack, at least explicitly, from their days of anti-black agitation, the KKK today says its goal is to defend whites "in the race war against us."

Although many people find the group repulsive, the Ku Klux Klan is legally protected under the US Constitution's 'freedom of speech' amendment.
You can share this story on social media: