'I played the game from the other side': Trump trumps GOP establishment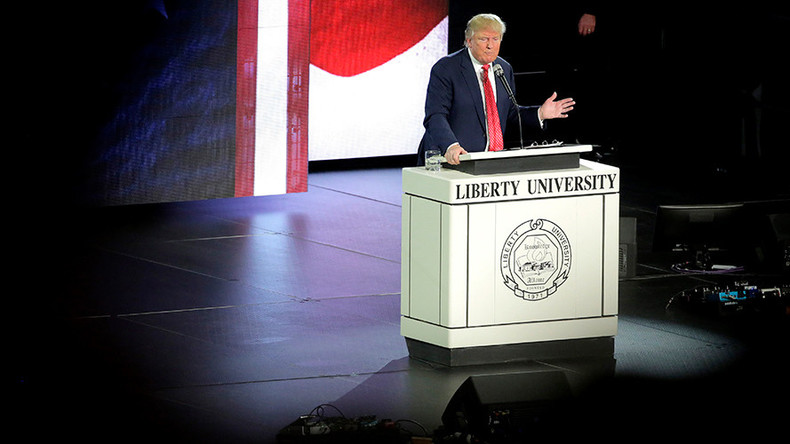 Donald Trump continues to vex the Republican elites, climbing in the polls despite criticism from the party. In a stump speech, the billionaire businessman proclaimed himself the "worst thing that ever happened" to the establishment.
"Look, I know this game better than anybody," Trump said, speaking before a large crowd at Liberty University in Lynchburg, Virginia on Monday. "I've been playing this game for a long time, folks, from the other side. I changed sides. I was total establishment. Now I'm like the worst thing that ever happened to the establishment. Because I understand the game!"
Invited by the evangelical Christian school to speak on Martin Luther King Day, Trump also made references to the Bible and spoke about American Christians needing to band together. It was his response to the GOP establishment, however, that attracted the most attention.
"So now, they go to, let's say, Jeb," Trump explained, invoking his favorite target among the rivals for the nomination as an example of a candidate beholden to donors. "He is going to get a call from his lobbyist, or his special interest: 'Mr. President, they gave you $5 million. You cannot make this deal'… Another one is going to call, Mr. President, they gave you $2 million."
Soon enough, the proverbial Bush caves in. "Alright, I'll do it. That's the end. We lose the jobs and all the different things," Trump said.
Jeb Bush was thought to be the favorite for the nomination when Trump entered the crowded Republican field last June. The brother of one former president and son of another, the former governor of Florida commanded an impressive campaign chest. Within a month, however, Trump was leading in the GOP polls while his speeches reduced Bush to a punchline.
The Donald did not spare the other party's establishment candidate, either. Without mentioning Hillary Clinton by name, Trump told the audience at Liberty University that he wanted to see a woman as president soon, "But not her. She's a disaster."
The GOP riled up many Trump supporters last week, following President Barack Obama's State of the Union address to Congress. Traditionally used to refute the president's talking points, the GOP response urged Americans not to listen to "the siren call of the angriest voices," as South Carolina Governor Nikki Haley put it.
"I will gladly accept the mantle of anger," Trump retorted two days later, at the GOP debate in North Charleston, South Carolina. "Our country is being run by incompetent people," he said. "And I won't be angry when we fix it, but until we fix it, I'm very, very angry."
Trump's campaign has shown "just how inept, corrupt, and out to lunch" the Republican "consultant class" has become, conservative blogger Erick Erickson has argued. "Donald Trump's candidacy would never have occurred if people were happy with the status quo."
You can share this story on social media: