New bill would let gun violence victims sue firearm manufacturers
Published time: 18 Jan, 2016 17:02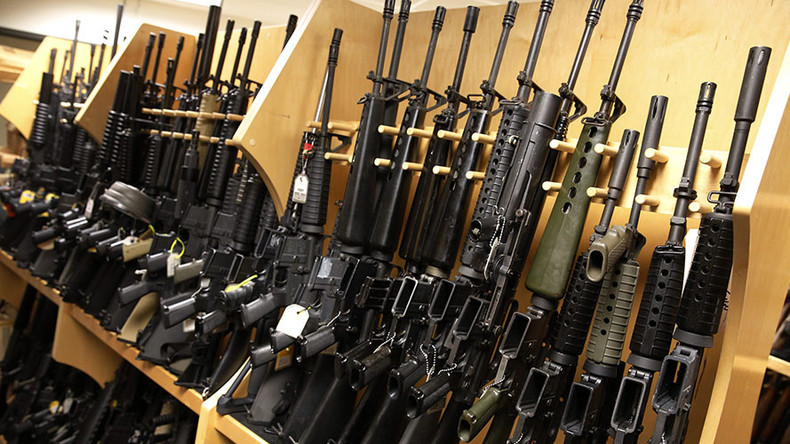 Democrats are trying to pass a bill that would hold gun makers liable for crimes committed with the weapons that they produced or sold. Passing the legislation will be an uphill battle in a Republican-controlled Congress.
The law would reverse protections by the gun industry granted by the Lawful Commerce in Arms Act of 2005, which shields it from litigation over gun crimes.
"If you're a carmaker and your airbags kill someone, you're potentially liable," Rep. Adam Schiff (D-California) told The Hill in an interview. "If you're a pharmaceutical company and sell faulty drugs, you can be held liable. If you're a liquor store and sell alcohol to minors, you can be held liable."
"Why should it be any different for gun manufacturers?" Schiff, one of the lawmakers behind the bill, asked.
Opponents of the Equal Access to Justice for Victims of Gun Violence Act argue that car manufacturers are only held liable when vehicles malfunction, not people are killed by drivers. They and say that the new law will leave gun manufacturers open to frivolous lawsuits, an outcome that the original law was designed to stop.
Co-sponsors Schiff and Rep. Adam Blumenthal (D-Connecticut), concede that the proposal will be very difficult to pass in a Republican-controlled Congress.
"It's much the same as any gun violence prevention bill," Blumenthal told The New York Times. "But it's profoundly important."
But while the bill may not be passed into law, it's serving as an important locus of debate in the Democratic presidential primary. Hillary Clinton has long tried to claim that Bernie Sanders, who is now neck-and-neck with her in polls, is weak on gun control. Before the Sunday democratic debate, the Clinton campaign used the fact that he voted for the liability-shielding law that Democrats are trying to repeal to attack the Vermont senator.
"The Clinton campaign welcomes Senator Sanders' debate-eve conversion, reversing his vote to immunize gun manufacturers," Clinton campaign chairman John Podesta said in a tweet Saturday, implying that Sanders had flip-flopped on the issue, since he has come out in support of the new legislation.
Sanders, however, refuted the claim that he had been inconsistent on the issue, saying that he supports the new legislation, but only if it includes provisions to avoid "unintended consequences" that he originally supported the original liability-limiting measure to prevent.
READ MORE: Clinton, Sanders tussle over Wall St, gun control, chemical weapons in pres debate
"As I have said, I do want to make sure that this legislation does not negatively impact small gun stores in rural America that serve the hunting community," he said. "So I'm pleased to support the legislation and should it come up for consideration I would work to make sure it includes a provision that allows us to monitor its impact so that we may determine if it is having any unintended consequences."