Milwaukee gun shop must pay $6mn to wounded cops following illegal sale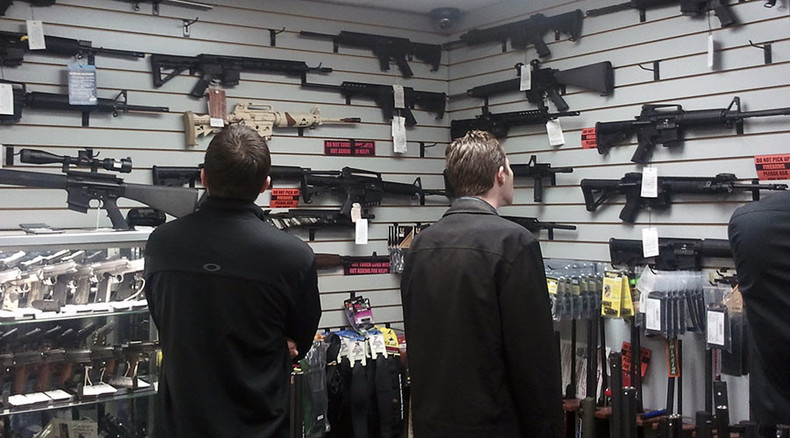 In a rare case of gun-sale liability, a Wisconsin jury has found the owners of a Milwaukee gun store liable for the wounding of two police officers in 2009. The gun used to shoot the officers was illegally acquired by a teenager through a 'straw buyer.'
The lawsuit relates to a 2009 incident when Julius Burton, who was 18 at the time, paid 21-year-old acquaintance Jacob Collins $40 to be the official buyer of a weapon.
The jury found that Badger Guns broke four firearm laws when it sold Collins the gun Burton later used to shoot Milwaukee police officers Bryan Norberg and Graham Kunisch.
Burton was sentenced to 80 years in prison, while Collins received two years in federal prison on a straw-buying conviction.
The jury announced late Tuesday that the store must pay almost $6 million in compensation and damages to the officers, pending appeal.

"A responsible business owner would do more and everyone agreed on that from the start," said jury foreman Brett Heaton Juarez, according to the Milwaukee Journal Sentinel. "Gun dealers have to do more than what we saw in this instance."
Juarez said that the jury considered the testimony that revealed the store did not train workers properly, did not have a regular protocol for firearm sales, and did not know or understand federal gun regulations.
The jury said the store broke four laws when it "negligently entrusted" the gun to Collins. However, it stopped short of ruling that the store owners conspired to sell guns unlawfully.
READ MORE: Insane US gun laws fail to keep weapons from mentally ill
In 2005, Congress passed The Protection of Lawful Commerce in Arms Act, which protected firearms retailers and manufacturers from unlawful misuse by purchasers. The federal law does allow lawsuits in limited circumstances, for instance if the gun dealer broke the law or was negligent in its sales.
Norberg and Kunisch were both shot in the face during the 2009 encounter with Burton. A bullet went through Norberg's cheek and into his shoulder, shattering eight teeth. Kunisch lost an eye and part of the frontal lobe of his brain, forcing him into early retirement. The jury awarded $3.5 million to Kunisch, $1.5 million to Norberg, and another $730,000 in punitive damages.
Attorneys for the officers said the store's owners conspired to keep the store going even as federal regulators recommended a revocation of the shop's license in 2006. Adam Allan took over the store named Badger Outdoors from his father, Walter, and renamed it Badger Guns. This created a "clean slate," allowing the store to remain open, one federal official told the Sentinel.
Experts believe the jury's decision could have future implications for other liability cases concerning gun sales.
"It may well embolden more plaintiffs to bring lawsuits, and give new momentum to a litigation campaign that looked all but dead after 2005," Timothy Lytton, an expert in torts law and gun cases at the Georgia State University College of Law, told The New York Times.
The Milwaukee officers' attorney, Patrick Dunphy, said his duty was to his clients and not to work for any broader ramifications of the jury's decision.
"I didn't want to send a message, I wanted to represent my clients, these two police officers," said Dunphy, of the odds stacked against his clients. "Will it change the way things are done around the country? Time will tell."
READ MORE: Gun control debate roils 2016 presidential campaign in wake of UCC massacre
Badger Outdoors, later Badger Guns, was reportedly the top seller of guns used in crimes throughout Milwaukee. In 2005, law enforcement officers traced 537 weapons recovered from crime scenes to the store, according to the Sentinel. The 2005 data was only released in connection with a lawsuit. Gun tracking data have been subject to a secrecy law passed by Congress in 2003.
The store's license was finally revoked by the US Bureau of Alcohol Tobacco, Firearms and Explosives (ATF) in 2011. It has since reopened as Brew City Shooter's Supply Inc., owned by Walter Allan's other son, Michael.