Tinker, tailor, soldier, salesman? Military personnel to peddle guns for arms industry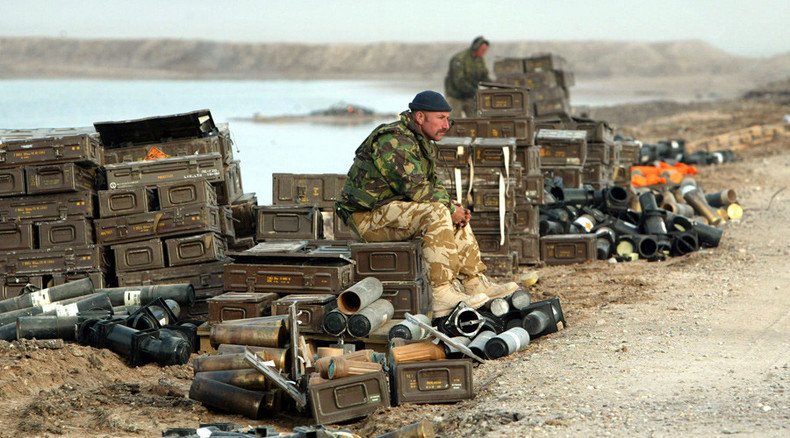 British soldiers will be used as salesmen to peddle weapons on behalf of the UK arms industry, according to new plans draw up by the Ministry of Defence (MoD) to boost sales and bolster the defense sector.
The idea is being floated by MoD officials as a means of bolstering the arms trade and to find roles for military personnel not currently deployed in Britain's theaters of war.
Andrew Smith of Campaign against the Arms Trade (CAAT) told RT that although the trend of using military personnel at arms fairs is quite common "the government appears to be calling for this to be done more often and outside of arms fairs."
He said the MoD move "will blur the line between armed forces and arms companies and is using UK soldiers to directly promote arms company interests."
Asked what the implications could be for the already controversially close relationship between arms firms, the government and the military, Smith said the proposal "shows that the UK government is prioritizing arms sales and undermines its claim to act as a regulator of the industry."
"It is completely inappropriate and is yet another example of the politically intimate and compromising relationship between the arms trade and the government."
However, the idea has not been well received by military personnel according to James de Waal of the Chatham house think-tank, who told the Financial Times "a lot of military officers are also hostile to the idea that they should be salesmen for British industry."
READ MORE: Britain signs £300m missile deal with MBDA
De Waal said military officers feel it is a "distraction" from their work and that "from a policy point of view it could also end up distorting the priorities of the government's international relationships.
"The interests of industry is in industry. Those are not necessarily the same as the interests of defense, politics or national security," he added.
You can share this story on social media: