3 tickets split $930mn top Powerball prize amid scandal and criticism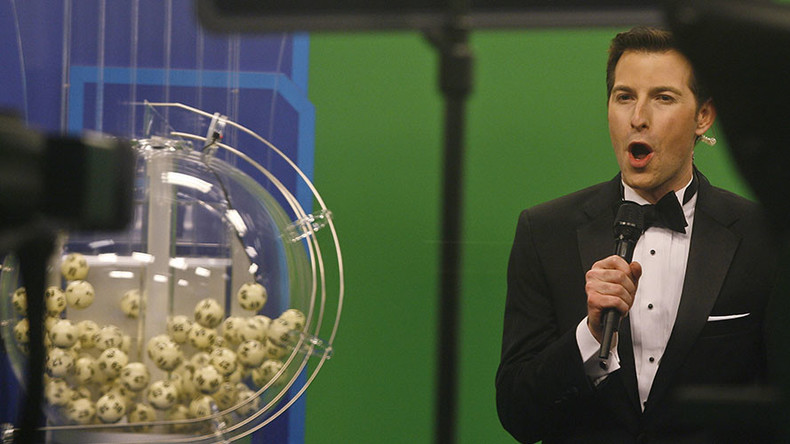 After 19 draws and hours in line, the record $1.6 billion Powerball jackpot has finally been won. The $930 million top prize is set to be shared among three winning tickets sold in California, Tennessee, and Florida.
Crowds gathered to celebrate at a 7-Eleven store in Chino Hills, California where one of the winning tickets was sold.
The store will receive a $1 million payment for selling the ticket and a lot of love from their regulars judging by the response.
The identity of the winners is not yet known. It has been confirmed that the other two winning tickets were bought in Munford, Tennessee and Melbourne Beach, Florida.
Despite the celebrations and excitement, the game is experiencing scandal, multiple criminal investigations, and high-profile resignations.
It all came to a head when Powerball's security director Eddie Tipton was caught and convicted for rigging a draw through a backdoor hack and sending his brother to collect the winnings.
Tipton is currently serving 10 years in prison.
Charles Strutt, Powerball's original employee and long-time director, quietly resigned late last year following Tipton's conviction.
And in a weird twist, Munford, one of this week's winning towns, is in Tipton County.
Articles published this week titled Powerball's $1.5 Billion Swindle Of Americans and Why the $1.5 billion Powerball is everything that's wrong with America expose this American institution and call lotteries like Powerball a "regressive tax on the poor".
"In 2009, lotteries in 11 states brought in more revenue than the corporate income tax," wrote Judd Legum and Bryce Covert for Think Progress. "And thus the lottery acts like an implicit 38 percent tax on mainly the poorest people."
The lottery is one of the few remaining "get rich quick" schemes and, as such, has gained mass popularity among impoverished Americans.
Players earning less than $10,000 per annum were found to spend the highest percentage of their annual income on lottery tickets, a staggering $597 (6 percent) according to studies.
Powerball isn't the only lottery preying on the poor with billions more spent on scratch cards and other jackpot tickets.
Historically, lottery winners have had a tough time managing their new wealth.
The chances of winning might be 292.2 million to one, but the chances of it ruining your life are a bit higher, with 70 percent of winners finding themselves in financial difficulty within seven years.
In 2009, Abraham Shakespeare won $30 million in the Florida lottery. Soon after he was befriended by a woman who got control of his assets, shot him dead, and hid his body under a concrete slab.
David Lee Edwards, a former drug addict and felon, won $27 million in 2001, also in Florida. After initially spending his jackpot on luxuries including a lear jet and a fibre optics company, he ended up back on drugs, broke, and living in a storage unit.
READ MORE: US Powerball lottery insanity: a billion dollars, country goes crazy, nobody wins
You can share this story on social media: