Net-shooting 'drone catcher' billed as solution to 'rogue' UAVs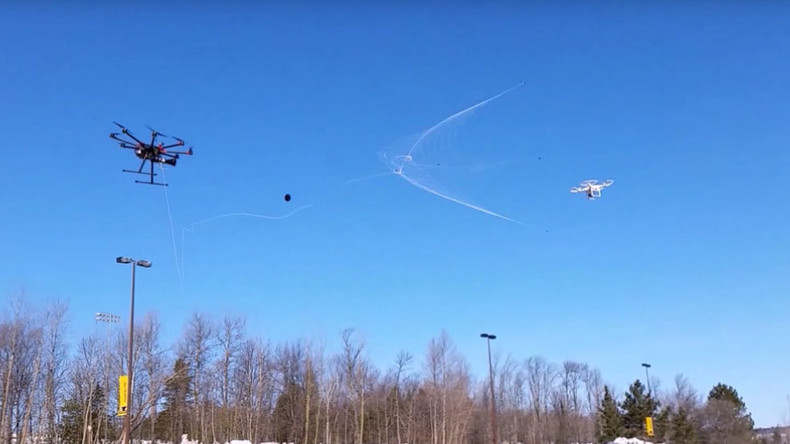 Citing high-profile security breaches involving unmanned aerial vehicles, a mechanical engineering professor has begun work on a "drone catcher" – a drone that pursues and captures other UAVs by shooting a net from up to 40 feet away.
Small UAVs have been used in close encounters with world leaders, as in an incident a year ago when a quadcopter flew over the White House fence, crashing into the lawn. In 2013, a drone was directed at a campaign rally for German Chancellor Angela Merkel. Meanwhile, the US Federal Aviation Administration, the federal agency charged with regulating drone flight, believes that 200,000 small drones flew in US airspace in 2014. During that year, "the FAA received 238 reports of potentially unsafe UAS operations," the agency said last month, and independent studies have echoed the concern that unmanned aerial systems pose a hazard to air traffic.
With new technologies for drones constantly emerging, including those enabling them to carry explosives, So Mo Rastgaar, an associate professor of mechanical engineering at Michigan Technological University, came to the conclusion that a method had to be developed to counter rogue drone flights.
Rastgaar's "drone catcher" is equipped with a large net. Whether flown by a pilot, autonomously, or a combination of both, the it can chase an object, such as another drone, and fire its net from up to 40 feet (12 meters) away to trap the target.
"What makes this unique is that the net is attached to our catcher, so you can retrieve the rogue drone or drop it in a designated, secure area," Rastgaar said in a recent report by Michigan Tech News. "It's like robotic falconry."
Rastgaar said he was inspired to create the drone catcher while watching a World Cup match in which snipers were monitoring the crowd. He thought that a drone, if armed as a weapon, might not be the best thing to shoot down over a crowd of people.
"I thought, 'If the threat is a drone, you really don't want to shoot it down -- it might contain explosives and blow up," he said. "What you want to do is catch it and get it out of there."
Rastgaar and his team are seeking a patent for their drone catcher. They said its uses could include catching drones piloted by spies or terrorists, or simply enforcing new federal regulations requiring small, non-commercial drones to be registered with the US government.
"The FAA has just announced that drones must be registered, and we think the catcher could help enforce the law by catching unregistered drones," he said.
A specially-trained riot police unit of the Tokyo police force in Japan has been experimenting with a one-meter-wide interceptor drone equipped with a camera, which is capable of wielding a two-by-three meter net.

"Terrorist attacks using drones carrying explosives are a possibility," a member of the police department's Security Bureau told Asahi Shimbun. "We hope to defend the nation's functions with the worst-case scenario in mind."
You can share this story on social media: