Nuclear facilities, Antarctica landscapes & monks atop wind turbines: 2015 as seen from drones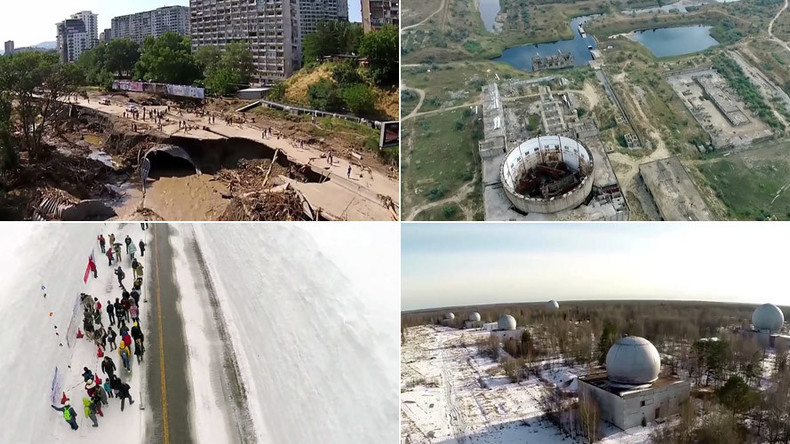 From the vortex of disasters to stunning Antarctic landscapes, there seems to be no place in the world left unreachable by drone cameras. We take a look at some of the most amazing footage from 2015.
New perspectives on catastrophe
Recently, a drone flew over the abandoned Fukushima nuclear power plant in Japan, damaged in a 2011 tsunami that caused equipment failures and radioactive leaks. The aftermath of devastating explosions at China's Tianjin warehouse containing flammable chemicals has also been revealed via drones. Other aerial footage provided views of a Chernobyl-era reactor, which has been standing abandoned for almost three decades.
READ MORE: Drone footage shows giant sarcophagus under construction in Chernobyl (VIDEO)
Human rivers flowing into Europe
The scale and drama of the flow of refugees from the Middle East to Europe could be seen in drone footage showing several thousand people relocating from one refugee camp to another. Another stunning video captured thousands at a buffer zone near the Greek-Macedonian border.
Alligator on the loose
A drone has captured even an alligator on the loose from a zoo. The huge reptile was filmed in the aftermath of catastrophic flooding in the Georgian capital of Tbilisi in June.
Alpine landscapes from a bird's eye view - quite literally
While some animals were filmed by drones, others attacked the gadgets and stole them - resulting in even more amazing footage. In the Austrian Tirol, a drone became an eagle's prey. The bird carried it in its claws and filmed some stunning views of alpine Austria.
Chillingly picturesque crop circles & walls of snow
Nature's difficult to reach wonders are among some of the most popular drone videos. The world got to see the grandeur and beauty of Siberia's UNESCO World Heritage site - the Sinsky Pillars in Russia's Yakutia, and mysterious crop circles in the Samara region. Bird's eye footage of frozen Antarctica was among 2015's highlights. A Stockholm-based filmmaker captured the chillingly picturesque panoramas of its frigid landscapes.
And if that's not enough snow - more drone footage showed a stunning "Snow Wall" phenomenon in Japan, in an area believed to receive some of the heaviest snowfall on the planet.
Anti-ballistic missile facility near Moscow? Yes please!
Aerial views of V-Day parade rehearsals in Moscow with heavy military vehicles trundling towards the Kremlin, spectacular world-famous Peterhof Palace fountains springing into life, stunning views of perfectly round Soviet multi-story buildings in Moscow, and a disused anti-ballistic missile facility near Moscow have also been captured from a bird's eye view, to show you Russia as you've never seen it before.
Repairman, biking pro & a monk on high
Humans on some palm-sweating missions are also at the center of a drone lens. Among 2015's highlights are a daring TV antennae repairman changing a light bulb at 1,500 feet, and a mountain-biking pro riding an almost vertical rock face with barely space for a car wheel in Arizona. But while some are filmed intentionally, others have learnt that drone technology has hardly left any privacy in the world... Ask the monk who was soaking up the sun atop a wind turbine in Rhode Island when his lunch-break solitude was rudely interrupted!
You can share this story on social media: