​Stunning drone footage shows man changing light bulb at 1,500 feet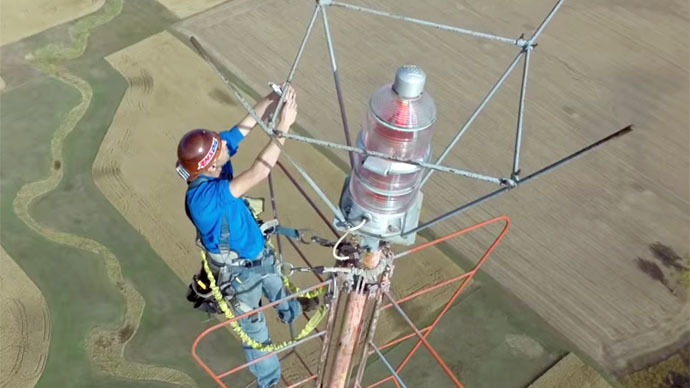 A daring TV antennae repairman scurries to the top of a 1500 foot defunct television tower in the middle of South Dakota's barren plains to change an anti-collision bulb and doesn't forget to snap a selfie.
The breath-taking footage, captured in high-definition by a drone piloted by PrairieAerial, a Sioux Falls-based aerial videography firm, captures technician Kevin Schmidt's ascent to the very top of the now out-of-use structure. In some of the most stomach-churning moments of the clip, Schmidt is shown unhooking and rehooking his safety rope as he scales the tower.
Previously, the iron tower beamed TV signals all over the northwest of US, but now its iron carcass stands as a mere obstacle to be avoided by aircraft. Schmidt was tasked with changing the flashing red bulb meant to steer low-lying aircraft away from the tower. The video has already amassed over 600,000 views.
You can share this story on social media: