Drone captures amazing synchronized Christmas lights (VIDEO)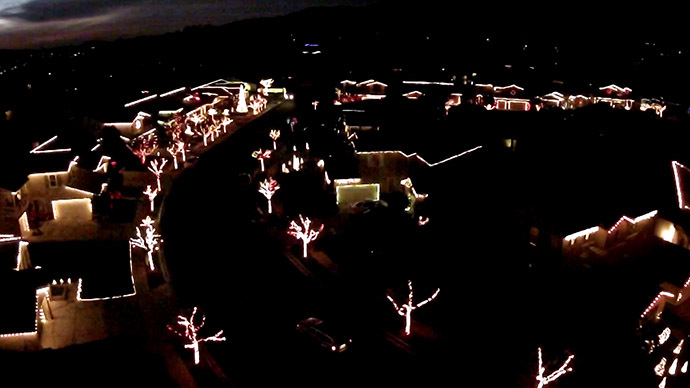 'Drones' and 'Christmas' aren't words that normally go together. But one airborne vehicle has captured arguably the coolest holiday light show in some time.
At this point in December, many Americans are starting to put together Christmas decorations. And while neighbors are often depicted getting into intensely heated – even ridiculous – competitions over annual holiday decorations, one neighborhood set that all aside this year to work together on a truly grand display.
Notably, an aerial drone is getting the best view of the action.
In YouTube videos uploaded by Jeff Maxey this week, footage captured by a drone shows off the coordinated efforts of the neighborhood, in Yucaipa, California. The lights are set to flash on and off in a synchronized manner, creating an impressive and colorful display.
Here's a video showing the lights during the early evening, set to 'Wizards in Winter' by the Trans-Siberian Orchestra.
And even nicer is the footage in the dark, which is set to 'All I Want for Christmas' by Mariah Carey.
You can share this story on social media: