Daredevil wire-walkers cross Victoria Falls (VIDEO)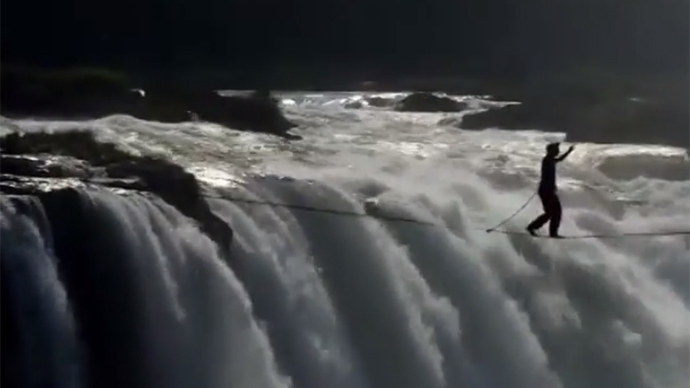 It took two years of training, endless dedication and a fearless mind for two professional slackline walkers to successfully cross the Victoria Falls on the Zambia-Zimbabwe border.
While it is neither the highest nor the widest waterfall in the world, though it's classified as the largest sheet of falling water. Yet for the two thrill-seekers, walking a rope above the 108-meter gorge proved to be anything but a piece of cake.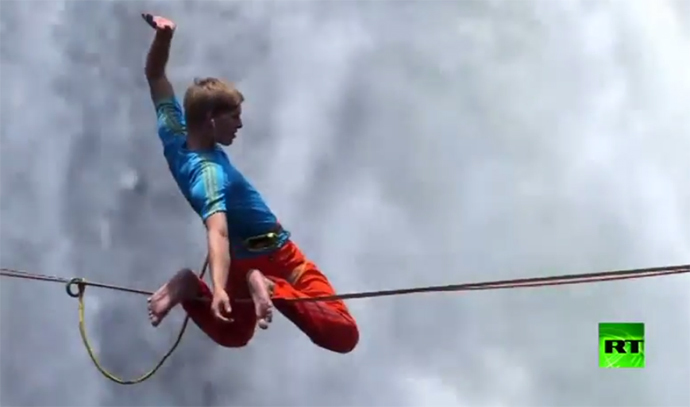 Chemistry student Lukas Irmler, 26, from Freising, Germany, and 34-year old crime author Reinhard Kleindl, from Graz, Austria, made the crossing safely without slipping or having to rely on their safety cords.
"Here you have a lot of spray, a lot of water in the air, floating beside you, splashing your face and it's intimidating on the one side, but also distracting," Irmler told Sky News. "You need to have a clear visual view [sic] of the environment, you need to be focused on the anchor point to the very end you want to walk to, and not getting distracted by a lot of water crashing by the side, which is very hard mentally."
Fellow daredevil Kleindl recalled the walk as being "very difficult" because the water gushes from the sides.
"It's like waves, they try to drag you, so it's really difficult for the optics and obviously everything is very heavy because it's soaked with water."
Both men have become the first to cross the Victoria Falls gorge using a slackline. Slacklining involves much higher concentration level than tightrope walking as it requires more balance because the line is not held rigidly taut. Instead it's dynamic, stretching and bouncing like a long and narrow trampoline.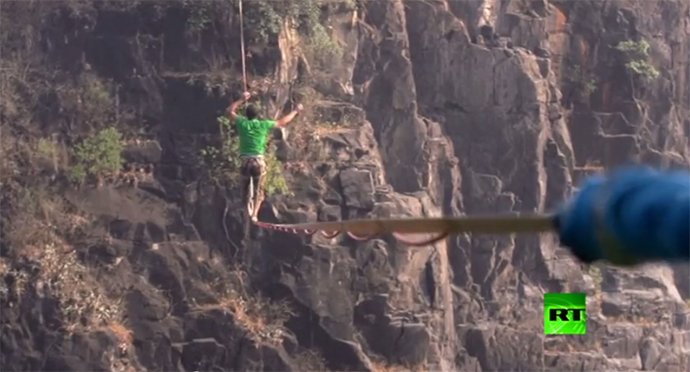 You can share this story on social media: