Drone captures thousands of refugees march in Slovenia (VIDEO)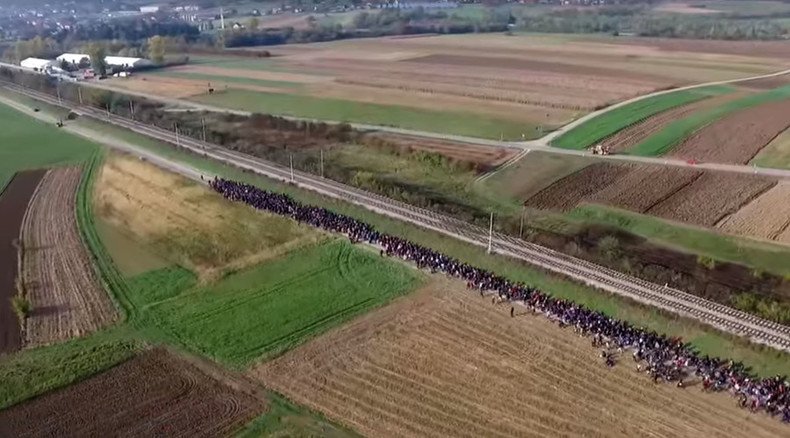 Drone footage highlights the scale and drama of the long flow of Middle Eastern refugees from one camp to another, after crossing the Croatia-Slovenia border. The journey was made by several thousand migrants, winding up in the Slovenian border town of Rigonce.
The footage shows the group huddling together on the Slovenian side at the border settlement, after traveling in a long, slow procession.
The purpose of the journey was to relocate from one refugee camp to another.
The border crossing is a key transit point on the so-called Western Balkan refugee route through southeastern Europe. Since mid-September, approximately 250,000 people are thought to have made it, with more than 11,000 arriving to Croatia on Saturday alone. Over the last 10 days, over 60,000 have crossed over into Slovenia.
The footage comes on the heels of an EU agreement with Balkan leaders on a 17-point plan aimed at tackling the wave of refugees and migrants flooding the bloc's member states via the Balkan Peninsula, the EU Commission said after their meeting in Brussels.
Leaders representing Albania, Austria, Bulgaria, Croatia, the former Yugoslavian Republic of Macedonia, Germany, Greece, Hungary, Romania, Serbia and Slovenia convened in the Belgian capital early Monday for the signing.
You can share this story on social media: