Georgian capital flood: 12 killed, zoo animals escape, several shot dead (PHOTOS, VIDEO)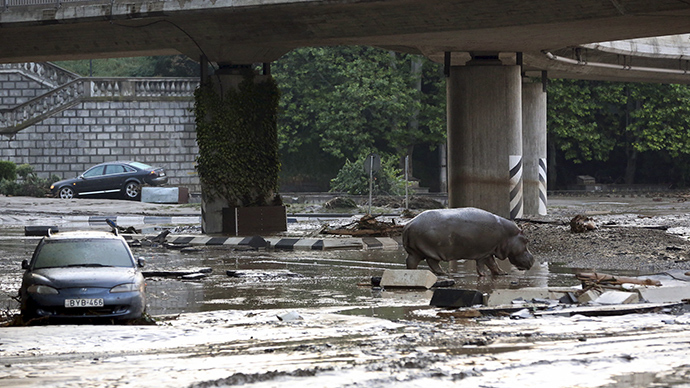 An incessant torrential downpour has ravaged Tbilisi, resulting in flooding of low-lying areas in Georgia's capital. The severe weather took the lives of 12 people and resulted in the deaths of 300 animals from the local zoo.
#Tbilisiflood#Tbilisi dog shelter is demolished to the ground. ;( pic.twitter.com/0xFVOmB320

— Nia Mars ♫ (@Nia__Mars) June 14, 2015
The death toll so far stands at 12, while 24 people are missing, TASS reports. Bodies were found mostly in flooded private households. There have been reports of landslides in Tbilisi's suburbs.
The Georgian PM announced June 15 to be a day of mourning for the Tbilisi flood victims.
The water has filled hundreds of basements, underground walkways, squares and roads, and damaged electrical and technical infrastructure. The House of Justice has suffered the most among the federal buildings. Some 22,000 Tbilisi citizens remain without electricity.
Prime Minister Irakly Garibashvili announced that an emergency headquarters for damage control and recovery had been set up.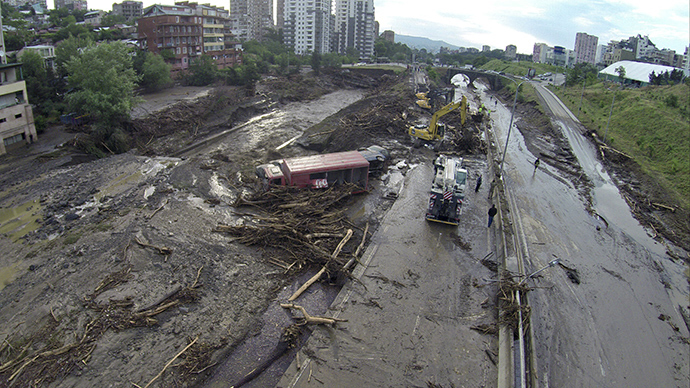 All rescue teams available have been deployed to Tbilisi to bring the situation under control.
Prague Zoo along with other Czech zoos is set to send a team of at least five specialists to Tbilisi on Monday.
"After consultation with Tbilisi Zoo's management we will send a team of skilled keepers, who have experienced floods in Prague. Keepers are going there to help with the current situation in Tbilisi," Miroslav Bobek, director of Prague Zoo, told RT. "As a president of UCSZOO (Union of Czech and Slovak Zoological Gardens) I have already initiated a public collection to financially support Tbilisi Zoo and its recovery."
In my 20 yearas of life I can't remember flood like this in #Tbilisi Animals run out from Zoo+ pic.twitter.com/u1BGKL5km5

— TamoTsertsva (@TamoTsertsva) June 14, 2015
"The situation is rather difficult. We haven't seen anything like this in the capital before," Garibashvili said. The Georgian PM reported that rescuers and police are doing their job well and have already saved dozens of people. "All problems will be solved," Garibashvili promised.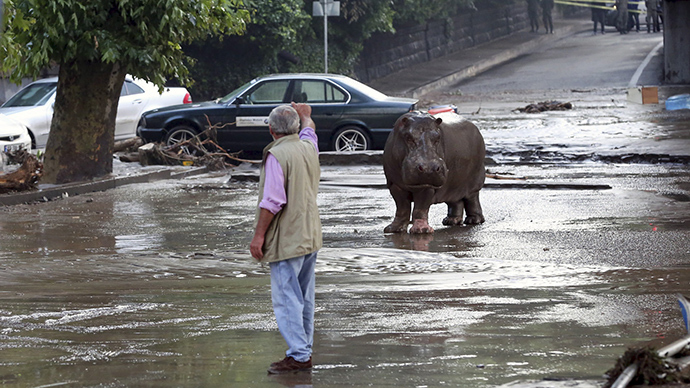 The Kura River that passes through the city broke its banks and flooded Tbilisi's Zoo, causing over 30 wild animals to flee, among them a hippo, 7 bears, six lions, six tigers, jaguars, 13 wolves and others.
#Tbilisiflood: ITS NOT A ZOO - ITS A SAFARI #Tbilisihttps://t.co/7SZfCqNDgh

— Amichai Stein (@AmichaiStein1) June 14, 2015
Three people were found dead in the zoo's grounds.
These were employees trying to save the animals from the flood, among them Guliko Chitadze, a woman who had worked in the zoological garden for over 25 years and who had had her arm amputated a fortnight ago after a tiger attacked her.
Images from #Tbilisi. Lions, alligators, bears, hippos roaming the streets after floods. pic.twitter.com/bBTqVe0r8s

— Haidar Sumeri (@IraqiSecurity) June 14, 2015
Out of a total of 17 penguins housed in the Zoo only three survived.
The upper part of the zoological garden suffered minor damage and the animals there, elephants, zebras, various horses and ponies and also the snake terrarium, stayed out of harm's way.
Meanwhile in Tbilisi pic.twitter.com/CJnnI03dID

— Mikhail Golub (@golub) June 14, 2015
Some creatures are now roaming the streets of Tbilisi.
#Tbilisi - after the flood. #Tbilisiflood#Georgia #Тбилиси #Грузияpic.twitter.com/0Yd3PSKh5O

— Yashar Huseyn (@yasharhuseyn) June 14, 2015
SWAT teams are trying to catch them using tranquilizer darts where possible, but they have killed some that became aggressive because of the disaster, including six wolves cornered near a children's hospital, Interfax reported.
Amazing image of hippo led thru the streets after #tbilisiflood destroys city zoo pic.twitter.com/WfCLpmtnPn

— natalia antelava (@antelava) June 14, 2015
Two lions and a tiger have reportedly been shot dead.
#Tbilisifloodpic.twitter.com/7aSFpNOpVU

— Tamo Basilaia (@TamarBasilaia) June 14, 2015
Police are also using helicopters to track down wild animals on the loose.
Serious damage across #Tbilisi after last night's flood. There are reports of lions on the loose from zoo pic.twitter.com/K4W6ke9599

— Peter Schwartzstein (@PSchwartzstein) June 14, 2015
The number of the dead animals was reported by the administration of the Tbilisi zoo, according to RIA-Novosti.
"There were over 600 inhabitants in the zoo, and over a half of them haven't survived. A part of the runaway animals is killed, a part is transferred to a special safe place. Bailing operations are being conducted at the moment," a spokesperson for the zoo administration told reporters.
Can you spot a bear? #Tbilisi (via @watson_news) pic.twitter.com/94yChktSyB

— *Russian Market (@russian_market) June 14, 2015
Zoo director, Zurab Gurielidze, believes that some runaway animals were killed without any special need. A rare white lion Shumba was found gunned down on the territory of the zoo.
"In the case of a predator attacking a man, its liquidation is understandable. But many things have to be explained. I know for sure that there has been no ruling to kill, some people seem to have exceeded the authority," Gurielidze said, as cited by RIA-Novosti.
A photo posted by @mazanik on Jun 14, 2015 at 1:33am PDT
Loss from the flooding in Tbilisi is estimated at about $23 million, according to the Prime Minister of Georgia, Irakli Garibashvili. He also confirmed that twelve people have died and 24 were missing.
You can share this story on social media: