Skynet squad: Tokyo deploys drone interceptors armed with nets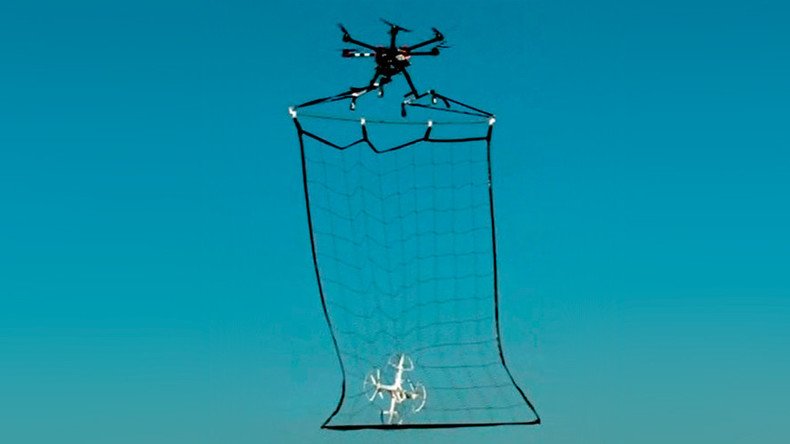 Tokyo police are taking preventative steps to battle illegal and potentially hostile drones in their city airspace. Authorities have introduced a massive net-wielding interceptor drone as part of their new security task force.
Starting later this month, the Metropolitan Police Department (MPD) will deploy a single interceptor drone attached to a specially-trained riot police unit. More such drones are to join the force in February of next year.
Each six-rotor drone measures around one meter in diameter, with a two-by-three meter net suspended from its body. The police drone will also be equipped with a camera so that the officers can remotely manipulate the drone using portable terminals.
Before deploying the drone, interceptor authorities however will still use loudspeakers in an attempt to urge the drone's pilot to leave the area voluntarily or risk his or her property being destroyed.
"Terrorist attacks using drones carrying explosives are a possibility," a member of the police department's Security Bureau told Asahi Shimbun. "We hope to defend the nation's functions with the worst-case scenario in mind."
The need to secure airspace from hostile privately-operating drones comes in wake of a security breach incident over the Prime Minister's office in April. The drone operated by 40-year-old Yasuo Yamamoto, landed on top of the roof of PM office with radioactive sand and also mounted with a smoke canister. The man was protesting over the Japanese government's nuclear energy policy.
The deployment of the interceptor drones follows a revision of the civil aviation law that regulates the use of drones that came into effect Thursday.
Under the new guidelines, those operating drones will be required to obtain special governmental approval to operate in areas that are densely populated or of a strategic importance. Sensitive government-linked buildings and facilities like nuclear power stations will be off limits according to the new revisions.
Nighttime flights will also require special permission that would require notifying authorities in advance of the purpose of the drone's flight, its route and the drone's serial number.
You can share this story on social media: