Multiple 4.0+ magnitude earthquakes hit Northwest Oklahoma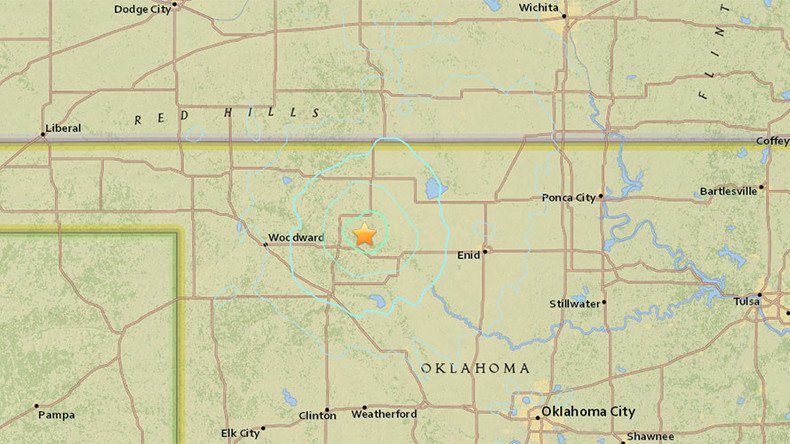 The US Geological Survey reported three earthquakes striking Northwest Oklahoma overnight. Fracking is blamed for the ever more common series of temblors in the state, which has already experienced 27 tremors in 2016.
A magnitude-4.7 quake hit an area 20 miles northwest of Fairview, Oklahoma around 10:27 p.m. About thirty seconds later, a magnitude-4.8 earthquake struck half a mile away. A magnitude-4.0 earthquake hit the area around 2:30 a.m. Thursday morning.
READ MORE: Oklahoma's booming oil industry could be shaken by earthquakes of its own making
The quakes were felt from Wichita, Kansas to Oklahoma City, and the US Geological Survey says that up to eight states may have been affected.
The magnitude-4.8 quake was the strongest in the Sooner State since the November 2011 cluster, when the state saw a record-breaking magnitude-5.6 earthquake. Dozens of smaller quakes were also recorded Wednesday night and Thursday morning.
Oklahoma's recent trend of earthquake clusters has been linked to the oil and gas exploration that uses hydraulic fracturing, or "fracking." When wastewater from industry activities is injected into the ground for disposal, it can cause put pressure on fault lines. Regulators have sought to reduce the amount of wastewater disposed in this way and have closed some oil and gas wells.
There have been 27 such earthquakes so far in 2016, compared to 42 in the entire year of 2010, according to the US geological survey.
You can share this story on social media: