State of emergency declared over huge Los Angeles County methane leak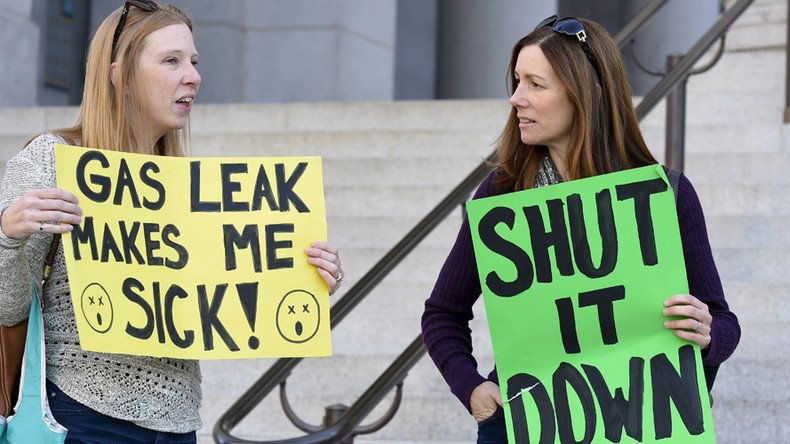 California Governor Jerry Brown declared a state of emergency over a large Southern California gas leak in Los Angeles County, which has led to months of protests and the displacement of thousands of families.
Governor Brown made the declaration on Wednesday, which will make more resources available for dealing with the leak at Porter Ranch, which is within LA County.
In the press release announcing the state of emergency, Brown's office said the order has come due to the "prolonged and continuing duration of the Aliso Canyon gas leak."
The leak at the Southern California Gas Company's Aliso Canyon storage field, which began on October 23, has steadily leaked 62 million cubic feet of methane into the air daily, according to an estimate by the Environmental Defense Fund.
The proclamation calls for the SoCal Gas to maximize the amount of natural gas being removed from the facility, capture leaks while relief wells are being built, and to identify how the company will stop the leak if relief wells don't seal the problem, or if the existing leak gets worse.
Since the leak was first noticed by workers at Aliso Canyon, repeated attempts to fix the leak were unsuccessful, leaving gas billowing downhill into Porter Ranch, a commuter residential area.
Governor Brown's proclamation calls for the gas company to stop the leak, protect public safety, ensure accountability and strengthen oversight of gas storage facilities.
The proclamation also states that the California Public Utilities Commission will make sure SoCal Gas covers costs related to both the leak and its response, while protecting the company's own ratepayers.
Governor Brown met with Porter Ranch residents and toured the Aliso Canyon Natural Gas Storage Facility earlier this week.
In December, an LA city court ordered SoCal Gas to provide temporary housing for thousands of Porter Ranch residents sick from inhaling gas fumes from the leak for over two months. The court order was intended to provide relief to more than 2,500 families waiting to be relocated since October 23.
The gas company had already paid for housing for more than 2,000 other households, according to the Los Angeles Times. There are an estimated 30,000 residents living in Porter Ranch.
During the course of the leaks, thousands of complaints of headaches, nausea and nosebleeds were made to the South Coast Air Quality Management District.
LA Weekly reported that the well was drilled in 1953 and was designed with a sub-surface safety valve over 8,000 feet underground. The valve broke and was removed in 1979 and never replaced. SoCal has said it will take until March for them to drill a relief well to resolve the problem and cap the current well.
You can share this story on social media: