Drug test failures lead to suspensions for 3 Clemson football players - report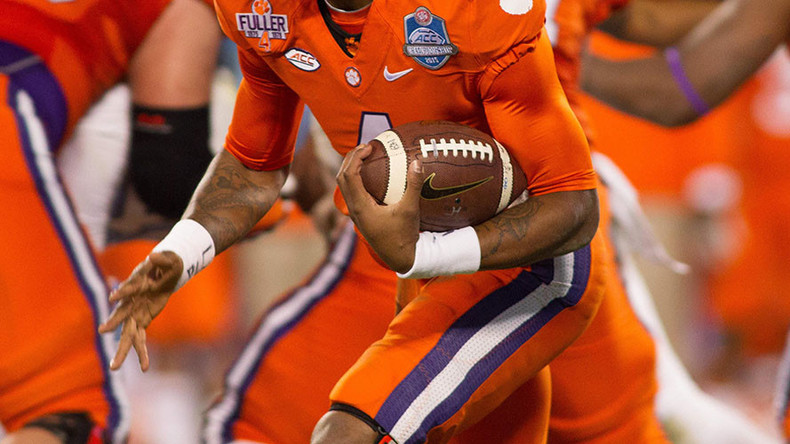 This year's Orange Bowl will not be without drama: Three Clemson Tigers players were suspended for violating team rules for reportedly failing a drug test, leaving the team with less than 24 hours to prepare for the game without them.
Clemson head coach Dabo Swinney confirmed today that wide receiver Deon Cain, tight end Jay Jay McCullough, and placekicker Ammon Lakip have been suspended. According to USA Today, the three players failed a drug test.
The suspensions come as the top-ranked Tigers prepare to meet the Oklahoma Sooners in an NCAA football Orange Bowl semifinal match on Thursday.
Clemson fans may be concerned about the loss of Deon Cain, as the 19-year-old freshman has been a catalyst for the team's offense. As the team's second best wide receiver, he had the potential to be a strong back up for Artavis Scott, the Tiger's best wide receiver. Scott underwent surgery for a torn meniscus on Monday.
This is not Deon Cain's first issue within the team. In October, he was benched by Swinney for "an attitude adjustment." The Clemson coach is not concerned about the loss of Cain," saying in a press conference, "The last time we played in this stadium, Deon Cain wasn't with us either."
Swinney isn't ready to count Cain out for next season, however. He said the freshman could be allowed to rejoin the team, "if he grows up."
I apologize to all my fans and the Clemson community,I am a man and will deal with the consequences. I made a mistake and will grow from it🙏

— Jay Jay McCullough (@Gold_Slugga) December 30, 2015
The same cannot be said for Jay Jay McCullough and Ammon Lakip. Both players have previous suspensions. Lakip, a senior, was suspended for three games this season following an arrest for driving under the influence and cocaine possession. As a senior, Lakip is, as Swinney said, "done."
Swinney defended his decision to suspend the three players through the postseason, saying, "It doesn't matter who they are or how big the game is. If you don't do what's right, you ain't playing."
Jay Jay McCullough, a junior, was suspended before the season due to academic reasons. Swinney explained that McCullough "will have an opportunity to come back to school next week and graduate by the summer and have the opportunity to move on."
With zero catches this season, it is unclear where McCullough will play next year, but it won't be for the Clemson Tigers.