Shotgun wedding: Florida store offers free firearm with jewelry purchase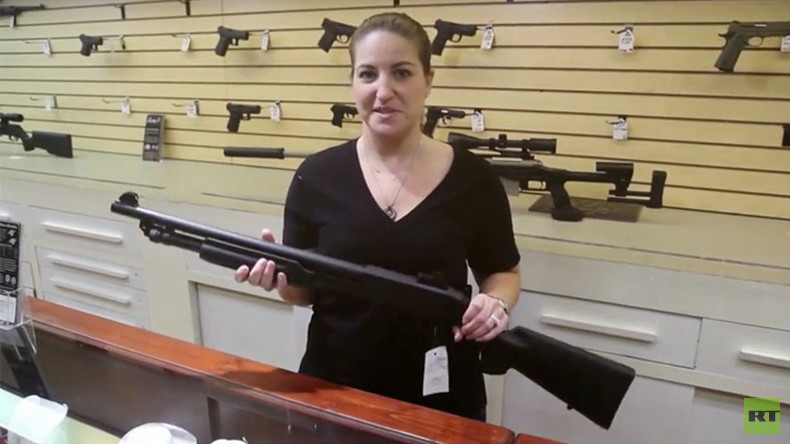 For those who need a bit of bang with their bling, a shop in downtown DeLand, Florida has the perfect holiday special – a free shotgun with the purchase of select pieces of jewelry. The couple that runs the store says the quirky promotion has paid off.
A sign in the window of the Downtown Goldsmith Jewelry & Engraving and 2nd Amendment Firearms – a combined jewelry and gun store on Woodland Boulevard – advertises a free 12-gauge pump shotgun to buyers of select jewelry. Shop owner Jesse Czerok says that the special has been a hit on Christmas and Valentine's Day for almost three years.
"We kind of took the take off the shotgun wedding and twisted it a little bit so more people could get involved," Czerok said.
The eligible jewelry ranges in price from $450 to $4000, while the shotgun is worth about $270, according to Atlanta's WAGA-TV. About 10 customers have already availed themselves of the offer.
"This kind of gives the guy an incentive to purchase a piece of jewelry for his wife," Czerok told reporters. "Or, vice versa, we've sold a couple of gentlemen's rings and the wives got the shotgun."
The jewelry store has been around for 14 years, says Czerok. Her husband Nick, the jeweler, opened the gun store addition in 2012. Both of the Czeroks are firearm enthusiasts.
While acknowledging the promotion might make some people uncomfortable, Czerok said she has not received any negative feedbacks. Furthermore, the free shotgun still requires the buyer to pass the legally mandated background checks, she told Orlando's WKMG-TV.
"We are doing everything you legally have to do to purchase a firearm," Czerok said. "So these are not just going on the street to anybody."
READ MORE: Gold, frankincense, and 'Murica: US gun sales up for Christmas

DeLand is the seat of Volusia County in central Florida, approximately 34 miles (55 km) north of Orlando.
The dual-purpose store may be on to something, as guns have become one of the most popular holiday gifts in America this year.
"Like any good husband, I asked for the list of Christmas items that you'd like to have and one of the items was a firearm," one shopper in Smyrna, Georgia, told NBC's Today show last week. "Above jewelry was a firearm."
In November, the FBI completed more than 2.2 million background checks for firearm purchases, a 24 percent increase from last year.
You can share this story on social media: