That's no firework! Woman finds bullet in thigh after days of pain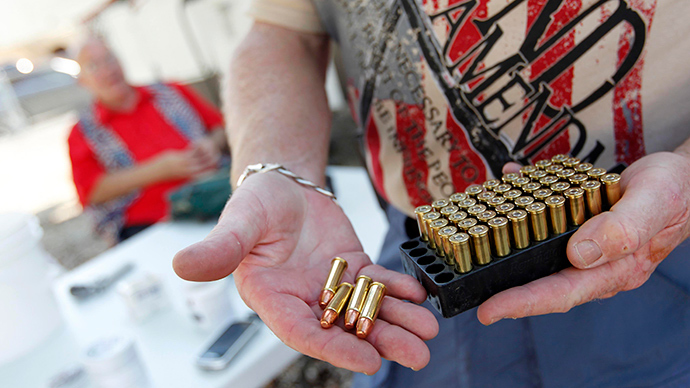 A Florida woman who thought she was hit by a firework during Independence Day celebrations was shocked when doctors discovered a bullet in her thigh. Police are still investigating where the bullet came from, suspecting someone had shot it into the air.
Heather Charlebois, 42, was sitting on the patio of a downtown café in DeLand, Florida on July 4, when something struck her leg. She initially thought it might have been a slap, or a stray firecracker.
"My first thought was somebody hit me, slapped me open handed really hard on my leg and pinched me, but it did not make any sense because I didn't see anyone," she told the Daytona Beach News-Journal. When the pain did not subside after several days, however, she went to the hospital, where doctors discovered a bullet in her thigh.
"They told me at the hospital they think it's a .38-caliber bullet lodged 4 centimeters inside my leg," she said.
Oh #Florida! Woman thinks July 4 leg wound is fireworks, 4 days later finds out it's a bullet http://t.co/EEtLHRqNyGpic.twitter.com/WXJ3sWem38

— Craig Pittman (@craigtimes) July 10, 2015
The mother of four said that being shot never crossed her mind. Noises from the bar patrons, the live band, and the fireworks and firecrackers being set off would have drowned out any sounds of gunfire.
"I don't recall hearing a gunshot," Charlebois said. "The sound that we actually heard I guess was the penetration of the bullet going through my jeans and into my leg."
Friends who saw the injury told Charlebois it looked like a bullet wound, she told the paper. After several days with the pain in her leg getting worse, she went to the hospital. An X-ray revealed a bullet lodged in her right thigh, but doctors advised against surgery since it was too close to a major artery.
"They are worried about going in and getting the bullet out because it is so close to the artery and they don't want to do any more damage," Charlebois said. "They felt it's better to leave it in."
She told the paper she felt lucky to be alive.
DeLand police have issued a call for anyone who might know anything about the incident to come forward.
"There is no indication a gun was fired in close proximity to where she was sitting at this point so, another theory is that it was fired into the air from a distance," said Sgt. Chris Estes.
Dan Reed, owner of the bar where Charlebois was injured, said he believed it must have been a stray bullet fired overhead and coming down onto the patio. "The bullet fell down straight from the sky and hit in the leg as she sat at one of the tables," he said.
DeLand is the seat of Volusia County in central Florida, approximately 34 miles (55 km) north of Orlando.