US diplomats had direct talks with Syria for years – report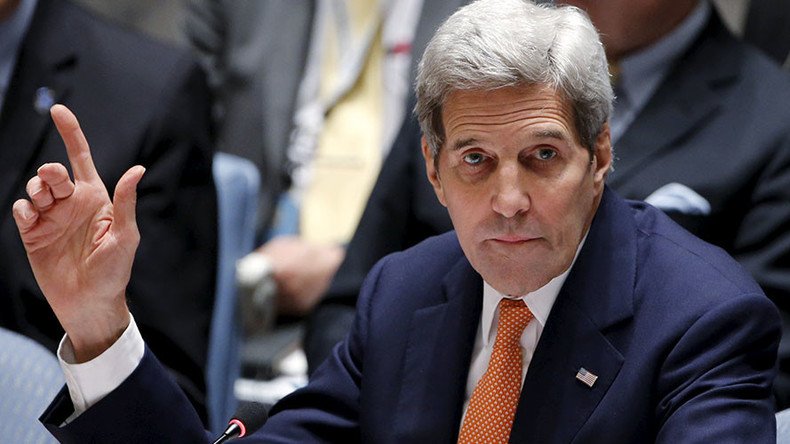 Dozens of US and Arab officials say the Obama administration communicated with Syrian counterparts for years. This follows other reporting that the US military indirectly sent intelligence to the Assad government to head off a calamitous regime change.
"The White House's policy in 2011 was to get to the point of a transition in Syria by finding cracks in the regime and offering incentives for people to abandon Assad," an unnamed former senior Obama administration official told the Wall Street Journal, saying disgruntled Alawite military officers were targeted.
President Barack Obama's first "Assad must go" public statement of the policy came in August 2011. Four years later, the exact policy remains unclear.
Earlier this week, Secretary of State John Kerry said the US "and our partners are not seeking so-called regime change" after meeting Russian President Vladimir Putin and his foreign minister Sergei Lavrov. But on December 23, Obama told reporters, "Assad is going to have to leave in order for a country to stop the bloodletting and for all the parties involved to be able to move forward in a non-sectarian way."
How Assad leaves before a negotiated cease-fire and subsequent national elections are held, without a US regime change policy, remains unclear. Events and conversations that led to this point, however, are slightly less blurry than they once were, now that officials from multiple countries have spoken to the Journal.
"We have had times where we've said: 'You could create a better environment for cease-fires if you stop dropping barrel bombs,'" a senior US official said.
"There's communicating on specific issues," the official added. "It's not like Cuba or Iran, where we thought that we would essentially, in a secret bilateral negotiation, resolve the issue."
Those talks didn't go far if anywhere at all, as the Assad regime reportedly gained legitimacy from simply having open lines of communication with Americans.
The former US ambassador to Damascus, Robert Ford, who has strongly supported arming Islamist rebel groups, said the Assad regime "is very supple politically. They're very smart," continuing, "They're always testing for weaknesses and pushing the envelope."
Failure to steer Syrian operations diplomatically led to more focus on arming "moderate" rebels in Syria, though it failed miserably as those deemed moderate were often coerced or heavily pressured by more militant extremists to hand over or sell their US-supplied arms.
"Russia doubled down and Iran doubled down, and it didn't really have an effect," a former Obama administration official said, referring to ineffective rebel training effort.
By the summer of 2012, the White House directed warnings through Russia and Iran to Assad, telling him not to resort to chemical weapons. In August, Obama infamously told the world such an attack would cross a "red line," prompting military action.
At the time, Deputy Secretary of State William Burns, who retired in 2014, phoned Syrian foreign minister Walid al-Moallem twice to reiterate the warning, but come August 2013, sarin gas was used to kill some 1,400 people, and the US did not follow through on its threat.
Russian and US intelligence disagree on who the perpetrators of that attack are, and an open letter to each country's top diplomats from Veteran Intelligence Professionals for Sanity calls on them to provide proof.
Still, in late 2013, communication lines between the US and Syria were not fully closed. On at least two occasions, Assistant Secretary of State Anne Patterson spoke with Syrian deputy foreign minister Faisal Mekdad regarding five Americans missing or detained in Syria.
After the "red line" posturing and the sarin attack a year later, the Obama administration again moved back towards negotiations with the Assad regime.
Come 2014, as the US increased its bombings against Islamic State militants in Iraq and Syria, State Department officials would contact their Syrian counterparts, ensuring US warplanes weren't attacked by Damascus. And currently, when the US sends its trained Syrian militants to attack Islamic State, Samantha Power, the US envoy to the UN, sends a deputy to the Syrian envoy, Bashar Jaafari. This is to prevent those fighters from being misidentified as rebels.
Another diplomatic route was through Khaled Ahmad, a businessman from Homs province who was the primary liaison for US diplomats and other Westerners like Joshua Landis, Syrian expert and director of the Center for Middle East Studies.
"Assad was looking for ways to talk to the White House," Landis, also a University of Oklahoma professor, told the Journal.
In Geneva in late 2013, Ahmad met Robert Ford, at the time a special White House envoy on Syria, who relayed the administration's desire to phase Assad out of power through political diplomacy.
In the spring of 2015, Ahmad arranged for Steve Simon, a former senior White House official who left last year, to meet Assad in Damascus. Ahmad and Simon had met twice previously, and Simon spoke with former colleagues in the National Security Council before and after his meeting with Assad. One of those colleagues was senior director Robert Malley.
Though Simon said his meeting with Assad was a personal one, not in official capacity, he pushed familiar talking points: Stop barrel bombing, fight the Islamic State as opposed to other rebel factions, and coordinate with the United Nations on local cease-fire efforts.
Assad, in similar fashion, spoke of his commitment to fighting terrorism, though he did express interest in cease-fires if they were on his government's terms rather than the UN's, according to two people with knowledge of the meeting, the Journal reported.
On Wednesday, RT's Anya Parampil interviewed Seymour Hersh, who broke a story that a highly classified report from Summer 2013 by the Defense Intelligence Agency and Joint Chiefs of Staff detailed their opposition to the administration's strategy of arming rebels to oust Assad.
Hersh points out that though Kerry and Obama "are softening the line about Assad," there is a catch.
"The reality is they always have a clause that says 'but we don't think that he can stay in power during the negotiations,'" Hersh said, calling their line of diplomacy "a game of cards."
You can share this story on social media: