Gyrocopter pilot wants to challenge DNC chief for Congress seat
Published time: 24 Dec, 2015 22:05
Edited time: 24 Dec, 2015 22:06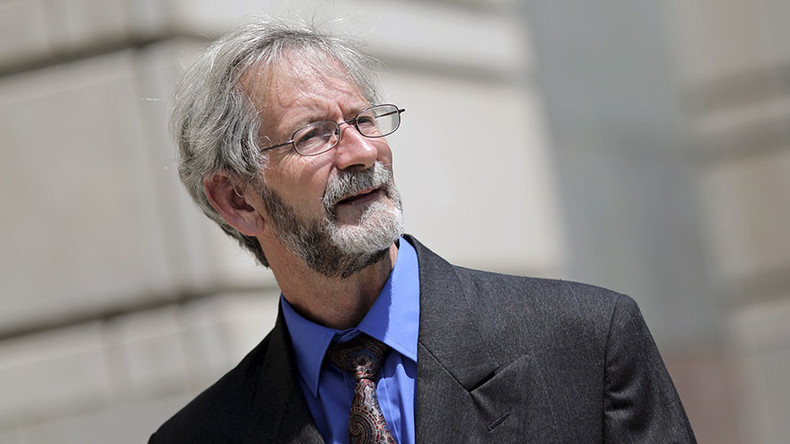 The Florida man who landed a gyrocopter on the US Capitol lawn in protest against campaign finance laws intends to challenge the Democratic Party chief for her seat in Congress next year – and a felony conviction over the incident should not hold him back.
Douglas Hughes, 62, made headlines in April when he piloted the small aircraft through restricted airspace over the US capital. Now he wants to mount a primary challenge to Representative Debbie Wasserman Schultz (D-Florida), current chair of the Democratic National Committee.
Hughes pleaded guilty in November to operating a gyrocopter without a license, agreeing to forfeit the vehicle as part of the plea deal with the government. This week, his lawyers filed a brief in federal court asking the judge to lift certain travel restrictions stipulated by the court as Hughes awaits his sentencing in the case. A felony conviction should not make him ineligible to run, they said.
"Mr. Hughes plans a 'strong ground game for his campaign, and will not engage in aerial civil disobedience,'" says the document, cited by The Hill.
"Running for political office will allow Mr. Hughes an opportunity to work, in a lawful manner, toward the type of political reform he desires," the lawyers argued in a document last week, which did not specify Hughes' political ambitions. "If his campaign is successful, holding office will also transform Mr. Hughes from an unemployed person to a person with meaningful employment."
A primary challenge to Wasserman Schultz is certainly a headline-worthy stunt. The Democratic Party chair has been in Congress since 2005, and co-chaired Hillary Clinton's presidential bid in 2008. She was in the news most recently last week, when the DNC briefly suspended Bernie Sanders' campaign from accessing the voter database over an incident in which a software glitch exposed the campaigns' secret voter data to other candidates.
Hughes, a Florida postal worker, made waves in April when he "literally flew in under the radar" – as Secretary of Homeland Security Jeh Johnson put it – to land in front of the Congress. He carried letters addressed to every member of Congress protesting the campaign financing laws.
He initially faced two felony charges of flying without a license and violating aircraft registration requirements, and four misdemeanors, including violations of restricted airspace above Washington, DC and "operating a vehicle falsely labeled as a postal carrier," due to the US Postal Service logo on the gyrocopter.
The embarrassed federal government eventually agreed to drop most of the charges, in exchange for a guilty plea to one of the felonies. The crime carries a maximum penalty of three years in prison and a $250,000 fine, but prosecutors agreed not to ask for more than 10 months in prison, while Hughes' lawyers have pushed for probation.