Bye bye birdie: Postal worker who landed gyrocopter in front of Congress pleads guilty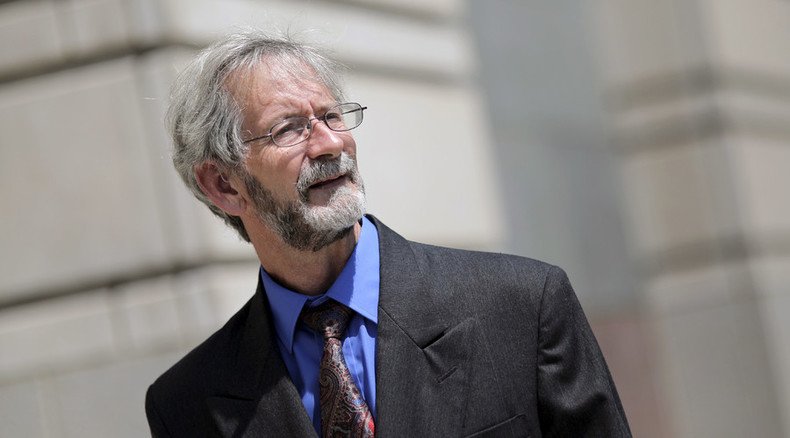 A Florida letter carrier who landed his gyrocopter in front of the Capitol building has pleaded guilty to a felony. He knowingly broke the law with the intent to raise awareness about the danger of money in politics.
On Friday morning, Douglas Hughes, 62, pleaded guilty to operating a gyrocopter without a license. As part of the plea deal that he accepted, he will hand the gyrocopter over to the government.
The crime carries a maximum penalty of three years in prison and a $250,000 fine, but prosecutors agreed not to ask for more than 10 months in prison as part of the plea deal. Mark Goldstone, one of Hughes' attorneys, said he will also ask for probation in the case.
Hughes had initially faced nine-and-a-half years in prison for flying the small one-man helicopter down the national mall and landing it in front of Congress on April 15. He was initially charged with two felonies and four misdemeanors, among which were violation of registration requirements for aircraft, violation of national defense airspace, and operating a fake postal vehicle. He rejected two previous plea deals, and most of the charges against him were dropped.
US District Court Judge Colleen Kollar-Kotelly set sentencing for April 13, almost exactly a year after Hughes made his flight.
Hughes is also facing an $11,000 fine from the Federal Aviation Administration, but is hoping that his lawyers can have that reduced. He has been living on Social Security since being fired from the US Postal Service for his flight through protected airspace. His private legal defense is being paid for by donations from those who support his cause.
The former postal worker was aware of the legal ramifications of what he was doing when he flew from Gettysburg, Pennsylvania to Washington, DC with 535 letters – one addressed to each member of Congress – on the morning of April 15. The letters contained a message regarding the Supreme Court's 2010 decision in the Citizens United v FEC ruling on independent political expenditures, urging lawmakers to take action to reform campaign finance laws to keep money out of politics.
Hughes was arrested immediately upon landing, and his letters were never delivered.
Hudges had been talking about the stunt for months on a personal blog, and tipped the media off in advance.
"No sane person would do what I'm doing," Hughes told the Tampa Bay Times in an interview. He even said that he would rather risk being shot down than live out his days knowing that he had not fought for his cause.
"I don't believe that the authorities are going to shoot down a 60-year-old mailman in a flying bicycle," he said in the interview. "I'm going to give them plenty of warning – well over an hour in advance of me getting to the no-fly-zone – so that they know who I am and what I'm doing and that it's non-violent."
READ MORE: Gyrocopter landing on Capitol differentiated as bird or terrain by radar – Pentagon
Besides bringing attention to the cause of campaign finance reform, the stunt brought security vulnerabilities around Washington, DC's restricted airspace to light. Hughes' lightweight craft was indistinguishable from birds and balloons on military radar.
At a congressional hearing in April, military and civilian authorities said that they were developing the ability to identify and defend against small, slow aircraft like the one Hughes was flying.
You can share this story on social media: