US Christians decrease 5 percent in 7 yrs - poll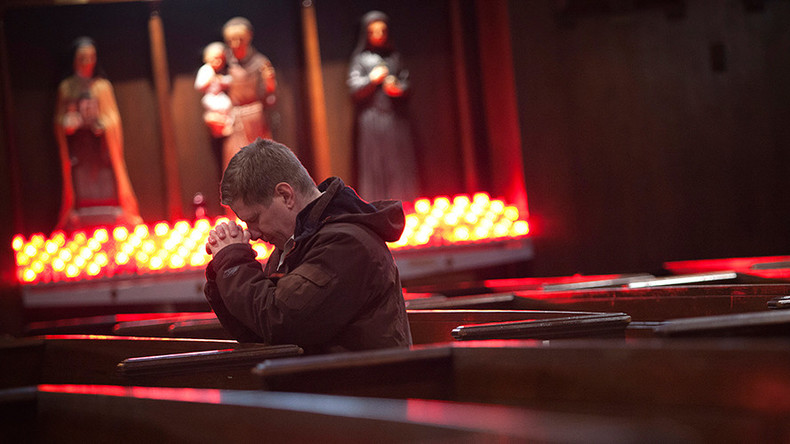 The number of Americans who identify as Christian has fallen by five percent since 2008, according to a poll released on Christmas Eve.
The number of those who identify with Christianity in the US is still high, with 75.2 percent of more than 174,000 respondents to a new Gallup poll saying as much, a half-percentage point lower than 2014 but an almost five percent decrease from 2008. Ninety-four percent of those claiming Christian identification say they are Christian.
Half of the 2015 respondents who identified as Christian said they are particular to Protestantism or another non-Catholic Christian denomination, 24 percent to Catholicism, and two percent to Mormonism.
Meanwhile, the number of Americans who have no formal religious identification rose to almost 20 percent, a five percent increase from 2008.
"The general trends in the data over this eight-year period are clear: As the percentage of Americans identifying with a Christian religion has decreased, the percentage with no formal religious identification has increased," wrote Gallup editor-in-chief Frank Newport.
Americans claiming identification with a non-Christian religion has remained steady since 2008, dropping only 0.2 percent in the last seven years.
At 62 percent, young Americans were the least likely group to claim Christian identification, which rises steadily until the age category 80 to 84. Americans within the ages 25 to 29 had the highest identification with no religion, at 32 percent. No religious identification steadily drops after that group until the 85 to 89 category.
"Traditionally, Americans have become more likely to identify with a religion as they age through their 30s and 40s and get married and have children," Newport wrote. "If this pattern does not occur in the same way it has in the past, the percentage of Christians nationwide will likely continue to shrink."