NFL team hires health clinic led by man who sold sham concussion prevention product – report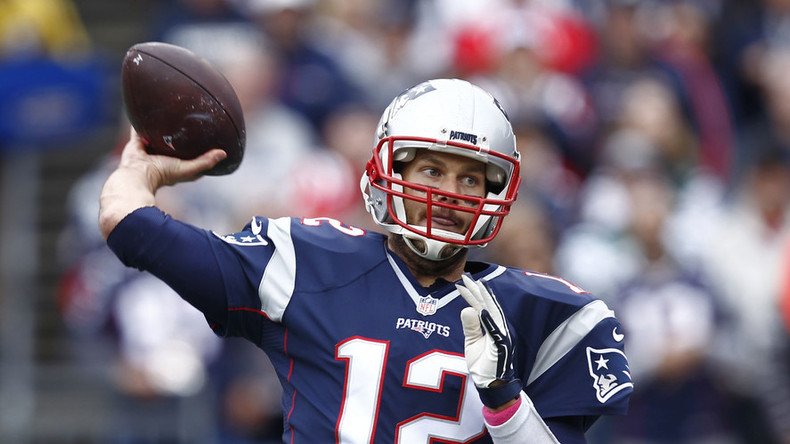 A sports health clinic helmed by a man with a history of selling a questionable product that claimed to prevent concussions is reported to be providing the NFL's New England Patriots team with treatment and nutritional advice.
Located less than a quarter of a mile from the Patriots' home at Gillette Stadium just outside of Boston, the TB12 Sports Therapy Center treats maladies ranging from sports injuries to brain injuries. It is owned by Patriots quarterback Tom Brady and his "body coach" Alex Guerrero, but Boston Magazine reports that "TB12 is not a licensed medical facility, physical therapy facility, or massage therapy facility, according to state records."
That has not stopped the New England Patriots from paying $200 an hour to treat players. While other physical therapy companies pay large sums for team sponsorship, Tom Brady seems the most likely to profit off of the arrangement with TB12, which is being paid by the Patriots for its services. If that holds true, "then this would seem to be in violation of the salary cap, at least in spirit" said sports economist Daniel Rascher to the Boston Globe.
The NFL Players Association told the Boston Globe that this arrangement "has no implication on the salary cap." The players' union also released an email in August which provides evidence of Brady requesting a payment to the TB12 center.
Despite Brady saying that "in the 10 or 11 years we've been working together, he has never been wrong," Guerrero has been the subject of scrutiny. With two Federal Trade Commission complaints under his belt, Guerrero's reputation for being a "snake oil salesman" dates back to 2004, when he was sued by the FTC for making unlawful claims and representing his products in an unlawful manner.
That did not deter Brady from voicing his support for Guerrero's NeuroSafe, a product that claimed to prevent concussion – an increasingly serious concern for football players.
"NeuroSafe makes me feel comfortable that if I get a concusion [sic] I can recover faster and more fully," were the words next to Brady's picture on the NeuroSafe website in 2011. "There is no other solution on the market today that can do what NeuroSafe does."
It was also a scam, according to medical professionals and the FTC.
"The only way to prevent a concussion is to not get a concussion in the first place," said Doctor Ramesh Raghupathi, PhD, a professor in the Department of Neurobiology & Anatomy at Drexel University College of Medicine. He points out that the fine print of NeuroSafe says that it has not been tested by the FDA, and does not claim to prevent or treat any disease. He explains that, while protective gear may reduce the risk of concussion, no type of helmet, mouth guard, or supplement will prevent a concussion.
According to SB Nation, NeuroSafe was endorsed by NFL legends like Tom Brady, Wes Welker, and Russell Wilson. Advertised as a way to protect the brain from the secondary effects of sports-related injuries, the product capitalized on an increased awareness of the connection between concussions and chronic traumatic encephalopathy (CTE).
Awareness regarding CTE and concussions has been on the rise since 2002, when former Pittsburgh Steeler center Mike Webster was diagnosed with the condition following his death at the age of 50. The Boston University Brain Bank has accepted 62 brains from former NFL players, 90 percent of which test positive for CTE. Adrian Robinson Junior, 25, was posthumously diagnosed with CTE by the Concussion Legacy Foundation at Boston University in October 2015.
With ingredients such as tocotrienols, creatine monohydrate, and alpha-lipoic acid, it is easy to see how some people might be swayed to pay the $98 retail price for NeuroSafe. However, those ingredients are little more than vitamins and anti-oxidants, according to Doctor Raghupathi. The problem with a product like NeuroSafe goes beyond it being an expensive pack of vitamins; it is the false sense of confidence that it inspires.
Doctor Raghupathi said that while awareness regarding concussions has increased, the creation of products targeted to prevent them will do more harm than good.
"These products have no control groups for testing, so the evidence is purely anecdotal," he said. "Athletes that believe that they can play without fear of concussions will increase the risks they can take."
Some have joked that the NFL stands for "Not for Long." But like many jokes, there is an element of truth to it. Yet Tom Brady, 38, is closer to 40 than to the average NFL retirement age of 30. Despite his age, his 16th season in the NFL has been described as strong, and he publicly claims to owe it all to his body coach and business partner, Alex Guerrero
You can share this story on social media: