Clinton vs. Sanders, terrorism & data breach: What to expect from tonight's Democratic debate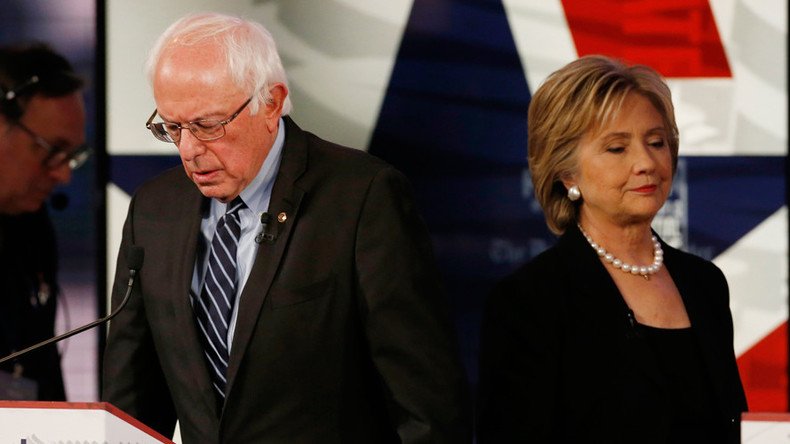 With tensions rising between Hillary Clinton's and Bernie Sanders' campaigns, tonight's Democratic debate promises more excitement than previous ones.
The third democratic debate will take place tonight at 8:00pm EST in New Hampshire. ABC News will host the debate between democratic hopefuls Hillary Clinton, Martin O'Malley and Bernie Sanders. ABC News' David Muir and Martha Raddatz will moderate.
This is the last primary of the year, and the third democratic debate of the year. There have been six Republican debates so far.
The timing of the debate has been criticized because it is taking place at the weekend, when fewer people watch, and on the weekend between Hanukkah and Christmas, when people are even less likely to watch. It also coincides with a major American football game (Jets vs. Cowboys). All Republican debates have been aired in prime time.
The last Republican debate drew over 18 million viewers, while the last Democratic debate had less than 9 million.
The Democratic National Convention has been accused of purposefully scheduling the debates at times when viewership is low in order to protect Clinton from unwanted scrutiny.
Front-runners
While the Democrat candidates tend not to create the same level of drama as the Republicans, this debate may see Clinton and Sanders turn on each other. Sanders is running out of time to gain on Clinton's significant lead.
A national poll released today shows Clinton is leading Sanders by 31 points, but in New Hampshire, Sanders is leading by 10 points.
READ MORE: Hilary 'feels the Bern' as MSM ignores Sanders' surging poll numbers
DNC data breach
This week's voter data breach is likely to be a hot topic. Due to a software glitch in the system that briefly opened up the database of the Democratic National Committee (DNC), Sanders' staffers gained access to Clinton's voter data.
The DNC claimed that Sanders 'stole' the information and blocked his campaign's access to own voter files. The Sanders campaign sued the DNC for blocking access, which ended up in an agreement to restore access on Saturday.
As a result of the punishment issued by the DNC over the data breach and the accusations of unfair debate schedules, the debate may address accusations that the DNC favors Clinton's campaign. O'Malley is likely to jump on this, as his campaign has complained about the debate schedules before, saying the DNC has found a way to protect Clinton.
National security
With terrorism high on the public's agenda in the wake of the Paris and San Bernardino attacks, candidates will have the chance to highlight their strategies to fight terrorism.
This will give Sanders the chance to stand out in contrast with Clinton's hawkish policies and record of supporting acts of war around the world.
Sanders has shown more restraint, voting against the Iraq war in 2002. He has shown a reluctance to address a plan to stop Islamic State (IS, formerly ISIS/ISIL), but will have to discuss the issue tonight.
O'Malley has less foreign policy experience and has previously shown willingness to let refugees in.
Clinton is likely to push her experience as a selling point, yet may leave herself open to criticism on her support of the Iraq war and regime change in Libya.
Regarding surveillance, Clinton is likely to push her new '360 degree' plan that claims to balance American's freedom and privacy, but which has been criticized as lacking specifics.
Republican rebukes
Candidates will likely address comments made by republican candidates during their debate last week. Donald Trump alone may have given the Democrats enough material to keep the debate going.
READ MORE: Trump defends plan to target ISIS family members as GOP rivals slam proposal
Despite the debate taking place on a Saturday night, viewers can always turn it into a fun drinking game. Just take a drink every time Sanders mentions the 1 percent or Clinton brings up her factory worker grandfather.
You can share this story on social media: