Trump defends plan to target ISIS family members as GOP rivals slam proposal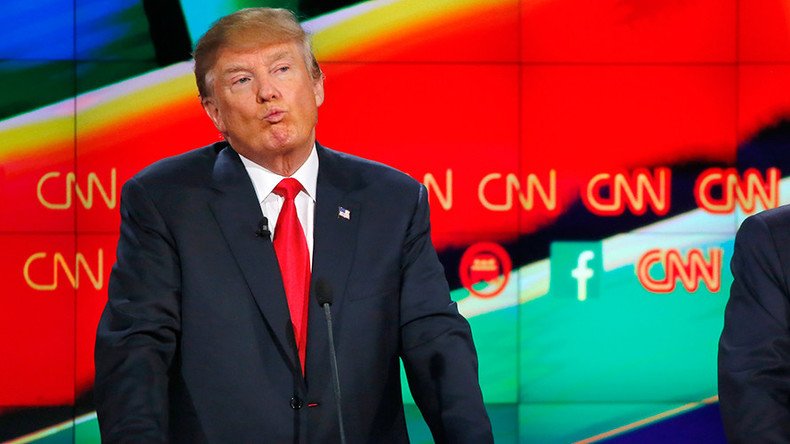 Presidential candidate Donald Trump came under fire during a Republican debate for his comments about "taking out" the families of Islamic State members. Trump defended himself by saying the US should be "firm" with terrorist family members.
A question for billionaire real estate mogul and Republican frontrunner Trump was: "How would intentionally killing innocent civilians set us apart from ISIS?"
"We have to be much tougher, we have to be much stronger than we have been. We have people that know what is going on. You look at the attack in California the other day. Numerous people, including the mother that knew what was going on. They saw a pipe bomb sitting all over the floor. They saw ammunition all over the place. They knew exactly what was going on," Trump said.
"When you had the World Trade Center go, people were put into planes that were friends, family, girlfriends they were put on planes primarily to Saudi Arabia, and they knew what was going on. They went home and wanted to watch their boyfriends on television," he added. "I would be very, very firm with families. Frankly, that will make people think because they may not care much about their lives but they do care, believe it or not, about their families lives."
The original question referred to past comments Trump had made in a Fox and Friends interview on December 3, when he said he would "knock the hell out" out of Islamic State (IS, also known as ISIS/ISIL) with military power if elected president.
"We're fighting a very politically correct war," he said to Fox, in answering a question regarding civilian casualties of war. "And the other thing is with the terrorists, you have to take out their families. They, they care about their lives. Don't kid yourself. But they say they don't care about their lives. You have to take out their families."
Trump's proposal was heavily attacked by his rivals during Tuesday's debate, however.
"This is another example of the lack of seriousness. Donald Trump said ISIS was not our fight just two months ago… And he gets his foreign policy experience from 'the shows [television news programs],'" former Florida Governor Jeb Bush responded, referring to past Trump comments. "That is not a serious kind of candidate."
He later told Trump that he wouldn't be able to "insult your way to the presidency."
Trump has also suggested shutting down parts of the internet if it would keep IS fighters offline. When he was asked about this idea of "closing that Internet up" to stop IS propaganda, he said he would like to get Silicon Valley experts to stop terrorists from "using our Internet" to recruit innocent young people.
"We should be able to penetrate the Internet and find out exactly where ISIS is," said Trump.
Senator Rand Paul (R-Kentucky) attacked Trump as well, arguing that closing the internet would end the First Amendment and that killing families of IS members would require withdrawing from the Geneva Conventions.
"It would defy every norm that is America, so when you ask yourself, whoever you are, if you think you're going to support Donald Trump, think: Do you believe in the Constitution?" Paul said. "Are you going to change the Constitution?"
"So they can kill us, but we can't kill them?" Trump responded, to some boos from the audience. "I just can't imagine somebody booing," he says. "These are people who want to kill us, folks."
Trump insisted his proposal, which was roundly condemned by his rivals, wasn't an attempt to discriminate.
"We are not talking about isolation, we're talking about security," he said, according to the Associated Press. "We are not talking about religion, we are talking about security."
You can share this story on social media: