Third time's not the charm: Obama speech on terrorism fails to convince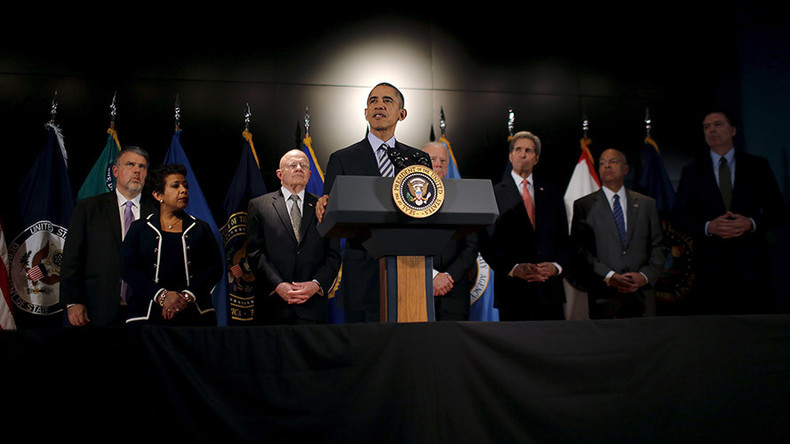 President Barack Obama gave a third speech on terrorism in less than two weeks in an attempt to placate critics unhappy with his actions and words after the San Bernardino attack. He spoke of a three-step plan and a new type of "lone actor" terrorism.
Speaking at the National Counterterrorism Center just outside Washington, DC, the president sought to assuage fears of a second terror attack on American soil ahead of the Christmas holiday, but admitted that so-called 'lone-wolf' perpetrators like the couple who killed 14 and injured 21 at a holiday party in San Bernardino, California at the beginning of December are increasingly difficult to catch.
Referring back to his primetime address to the nation made last Sunday, the president asked Americans to remain vigilant.
"We are in a new phase of terrorism, including lone actors and small groups of terrorists like those in San Bernardino," Obama said Tuesday afternoon. "Because they are smaller ‒ often self-initiating, self-motivating ‒ they're harder to detect. And that makes it harder to prevent."
"But just as the threat evolves, so do we," he added.
On Wednesday, FBI Director James Comey had talked about Islamic State (formerly ISIS/ISIL) terrorists focusing on small attacks, something that previously was rarely mentioned before in relation to the jihadist group.
Obama then outlined three main thrusts of the battle against terrorism, referencing his Pentagon speech from Monday, saying that the US is "going after terrorists over there" and "hitting ISIL harder than ever in Syria and Iraq"; "doing everything in our power to prevent terrorists from getting into the United States," including looking into the visa waiver, refugee application and K-1 fiancée visa programs; and stepping up efforts to prevent terrorist attacks in the US.
It was the first time in the three speeches that Obama specifically mentioned the K-1 visa, which San Bernardino shooter Tashfeen Malik used to enter the US.
"Here's what I want every American to know: Since 9/11, we have taken extraordinary steps to strengthen our homeland security," Obama said, as Vice President Joe Biden, Secretary of State John Kerry, Secretary of Homeland Security Jeh Johnson, FBI Director James Comey, Director of National Intelligence James Clapper, National Counterterrorism Center Director Nick Rasmussen and Attorney General Loretta Lynch looked on.
"We've gotten much better… at preventing large, complex attacks like 9/11," the president noted, adding that the US has "the very best in intelligence, counterterrorism, homeland security and law enforcement professionals in the world. Our folks are the best." Obama then praised their "remarkable successes" that often remain classified and unreported.
Obama promised that the government's national security arm would learn "needed" lessons from San Bernardino, but noted that "at the moment, our intelligence and counterterrorism professionals do not have any specific and credible information about an attack on the homeland."
The speech came after Obama received the latest threat briefing from Clapper, Comey and Rasmussen, as well as an update on the San Bernardino investigation from the FBI director and Lynch.