ISIS seeks many small attacks, crowdsources terrorism - FBI director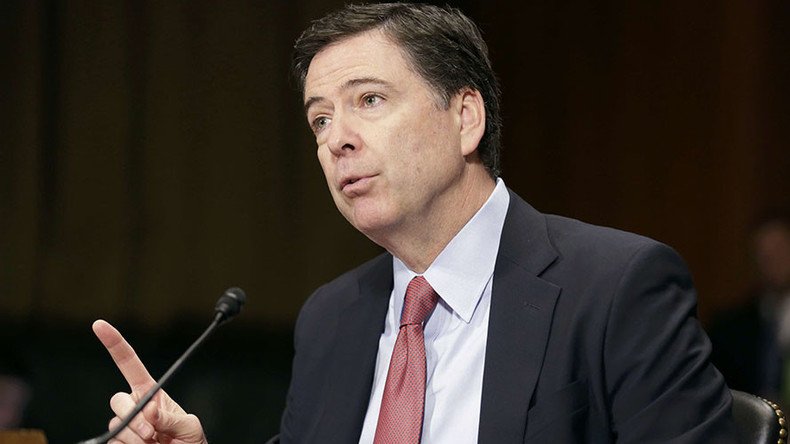 Islamic State poses a different threat than Al-Qaeda, seeking to inspire small attacks around the world and "crowdsourcing" terrorism via social media, rather than instigating big, spectacular operations, FBI director James Comey said.
Addressing the NYPD Shield conference in New York City on Wednesday, Comey compared the Islamic State (IS, formerly ISIS/ISIL) to a hydra, a mythic monster which grew two new heads for every one that was cut off.
Unlike Al-Qaeda, which was more centralized and focused on major acts of terrorism, IS has "has become the leader in global jihad by this crowdsourcing of terrorism" through social media platforms, the FBI chief said.
Comey also used the speech as an opportunity to push his anti-encryption agenda, telling the audience that encrypted messaging makes terrorists "go dark" to law enforcement.
Encryption is "at the center of terrorist tradecraft," he said, urging for more surveillance capability in the name of fighting terrorism.
Echoing his remarks in the wake of the San Bernardino attack, Comey said that Americans should not live in a "disabling state of fear" but should channel their anxiety into a "healthy awareness" of their surroundings.
Asked about the San Bernardino attackers, Comey said the FBI was still trying to understand where they were in the four hours between the holiday party shooting and the shootout with police, if there was anything else they were planning to do, and if anyone else was helping them.
"We still have not seen evidence… that they were part of an organized cell of some sort, or that there were other parts to this plan," the FBI chief said.
Asked whether the Bureau was able to find any expression of support for jihad in social media postings by either Syed Farook or his wife Tashfeen Malik, Comey said that the suspects communicated in "direct, private messages."
"We have found no evidence of a posting on social media by either of them," he said.
LISTEN MORE:

You can share this story on social media: