Maryland man accused of taking money from ISIS for US attack - feds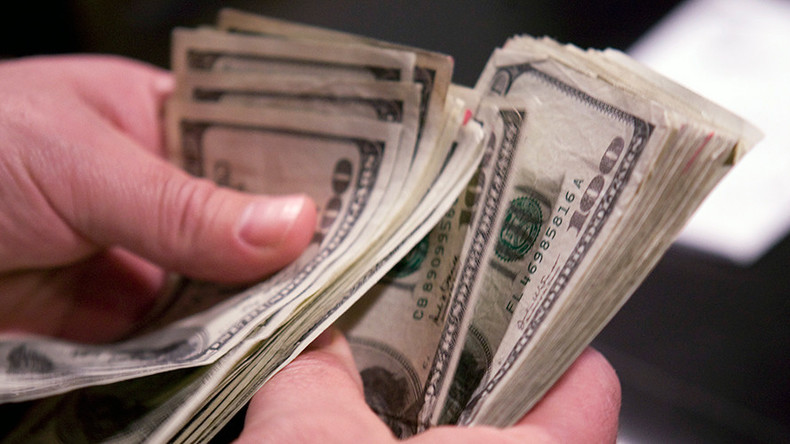 The FBI has accused a Maryland man of allegedly taking money from Islamic State to "conduct an attack on US soil." The man claimed he had scammed the terrorist organization for thousands of dollars and used the money to buy furniture and pay bills.
Federal officials claim Egyptian-born Mohamed Elshinawy, 30, lied about any connection to Islamic State (IS, formerly ISIS/ISIL) when approached by law enforcement.
"When confronted by the FBI, he lied in order to conceal his support for ISIL and the steps he took to provide material support to the deadly foreign terrorist organization," Assistant US Attorney General John P. Carlin said in Maryland federal district court on Monday.
Elshinawy was arrested on Friday and charged with attempting to provide material support to a foreign terrorist organization and other offenses.
Elshinawy received at least $8,700 from an Islamic State operative and planned to use the money to launch an attack in the US as part of a pledge of loyalty to the militant group, according to federal prosecutors. The arrest came after the FBI conducted a five-month investigation tracking his international financial transactions and online communications between June and October 2015.
He did not contest his temporary jailing without bail, and a lawyer representing him declined to comment on the charges, according to the Baltimore Sun.
Officials say they found evidence that Elshinawy had gone to great lengths to disguise his online communications with overseas contacts.
"He showed a level of tradecraft that we haven't seen in many other cases," said an unnamed law enforcement official to the Baltimore Sun.
The FBI said in June 2015 that it had identified a person located in Egypt who was attempting to send money to the US, "possibly for nefarious purposes." By reviewing Western Union transaction records, the FBI said in the complaint that they were able "to confirm that on June 28, 2015, this individual wire-transferred a sum of $1,000 (exclusive of transaction fees) to Elshinawy from a location in Egypt."
Following the money, the FBI discovered Elshinawy had deposited the majority of the cash in his checking account. When questioned by the FBI, Elshinawy claimed the money had come from his mother who resides in Egypt. When he was shown the Western Union receipt, he then said the money had been sent to him so that he could purchase an iPhone for a friend.
When the FBI pointed out that making false statement to law enforcement was a criminal offense, Elshinawy admitted he had a childhood friend who had been arrested on terrorism-related offenses in Egypt and gone to Syria upon being released from custody. Elshinawy told agents his friend had contacted him a few months earlier to connect him, through social media, with a member of IS.
Authorities said the two men had had conversations in Arabic about their mutual support for IS and that Elshinawy had asked his friend to relay his pledge of support to the group's representatives.
Elshinawy declared himself a "soldier of the state," and said that "his soul was over there with the jihadists and that every time he saw the news, he smiled," according to the affidavit filed by David Rodski, an FBI special agent.
"Believing he would be able to get some money from ISIL, Elshinawy agreed to contact… began communicating with ISIL operative," the affidavit stated. "Elshinawy advised the interviewing agents that he ultimately received a total of $4,000 in two payments from the unidentified ISIL operative."
"Elshinawy stated he was instructed to use the monies he received from the unidentified ISIL operations for 'operational purposes' which Elshinawy understood to mean causing destruction or conducting a terrorist attack in the United States," added the complaint.
Elshinawy told agents he knew the money he was sent was intended to be used in funding a terrorist attack, but claimed he never intended to carry it out. Instead, he said he saw an opportunity to make money from "thieves," and "felt the FBI should reward him for what he had done."
"Elshinawy stated that he was instructed that if he ever determined he was under surveillance by law enforcement, he was to stop whatever activities he was doing in connection with executing an attack," according to prosecutors.
Initially, agents were told that he had received $4,000, but after subsequent interviews it was revealed that he had been sent additional payments of at least $3,500 via Paypal, for a total of at least $8,700, "from individuals…understood to be associated with ISIL."
"I believe that ELSHINAWY provided his cover story to the FBI in order to conceal his true motivation and activities relating to ISIL. I also believe that his communications with his childhood friend and his brother reveal his true state of mind and support of ISIL's cause," wrote FBI special agent Rodski.
Elshinawy is the first person to be charged by federal prosecutors in Maryland for alleged ties to Islamic State.