Baltimore protesters blocking streets in wake of Freddie Gray mistrial, family calls for peace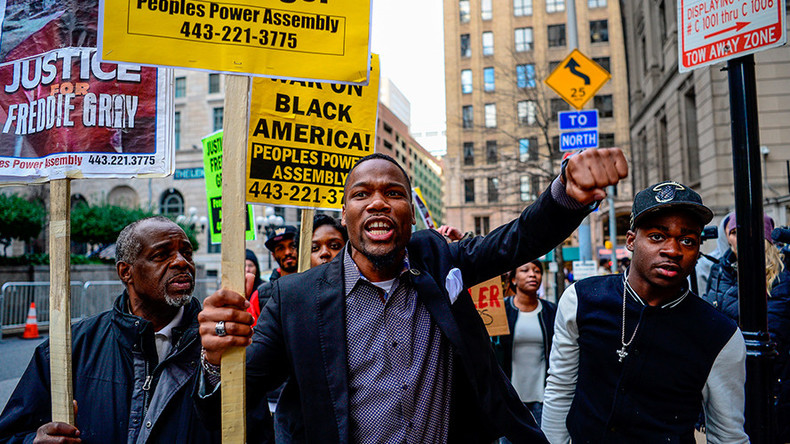 Baltimore protesters took to the streets and began blocking traffic after a mistrial was declared in the first case related to Freddie Gray, a young black man who died in police custody last year. Two arrests were confirmed by police.
The protests came after a judge announced a mistrial for Officer William Porter, the first of six cops to be tried over Gray's in-custody death. The jury could not unanimously agree on one or more of the charges, and so a new trial must be set if prosecutors want to continue pursuing punishment.
Tension between law enforcement and activists rose since police told demonstrators that they needed to stay on the sidewalks and keep out of the streets or face arrest.
A crowd gathered near Baltimore City Hall, according to reports on social media. Some in the crowd were reportedly chanting, "We have nothing to lose but our chains."
Officers were seen blocking major streets so that protesters could not get through.
Activists also questioned the media, asking where reporters were when they were holding peaceful protests throughout the last year. In some cases, they interrupted live television reports.
In some parts of the city, protesters held hands and chanted prayers together.
The protests took place as Baltimore police became involved in an officer-involved shooting, raising concern that the incident may spark further unrest. Police said an officer shot an armed 17-year-old in the leg after he refused to drop his weapon. He was taken to a hospital and is expected to be charged. Another suspect was also involved, but managed to escape.
Police emphasized that the incident was completely unrelated and had nothing to do with the Freddie Gray protests.
Before the protests picked up steam, Freddie Gray's family, community activists and Baltimore officials called for peace in the Maryland city.
"If the family is not angry, than no one else should be angry," Billy Murphy, an attorney for the family, said at a press conference, noting that they are at a very important stage in the case. "The best way you can respect the memory of Freddie Gray is to respect the process."
"We are confident there will be another trial with a verdict," Richard Shipley, Gray's stepfather said. "The jury did they best they could."
Lawyers for both sides will meet on Thursday to discuss a new trial date. Porter will remain suspended without pay until a verdict is reached in his case, Baltimore Police Commissioner Kevin Davis told reporters.
Meanwhile, Mayor Stephanie Rawlings-Blake urged Baltimore residents not to riot after the hung jury was announced.
"As a unified city, we must respect the outcome of the judicial process," she said in a statement. "In the coming days, if some choose to demonstrate peacefully to express their opinion, that is their constitutional right."
"I also want to be very, very clear about any potential disturbances in our city: We are prepared to respond. We will protect our residents, we will protect our neighborhoods, our businesses, and we will protect the safety of our first responders."
During a press conference attended by the mayor, Davis promised that protesters demonstrating lawfully would "have a friend in the Baltimore Police Department."
"It's part of this process, in this great American criminal justice process, and many Americans think that it's imperfect, our criminal justice process. And maybe it is imperfect, but it sure beats what comes in second. I think we all have to respect the process," Davis said when asked of his reaction to the mistrial.
"The process is ongoing ‒ it's not the last time we'll talk about it, and I think we just have to be consistent, measured and thoughtful as we go forward because our Baltimoreans need to know that their police department, of all groups of people, have to respect the criminal justice process and we do," he added.
The local police union pledged its continued support for the 26-year-old officer.
"When Officer Porter began this journey through the judicial process, we asked that everyone allow him his day in court as is promised to all citizens," Gene Ryan, president of the local Fraternal Order of Police lodge, said in a statement. "Today, seven month later, Officer Porter is no closer to a resolution than he was at that time… Officer Porter and his attorneys will continue, with the full support of the Fraternal Order of Police, to press for his acquittal."
"While certainly nothing will return Freddie Gray to his family, we ask that the public continue to allow the judicial process to find its way to a final resolution," Ryan concluded.