Chicago police torture 'black site' exposed at hearing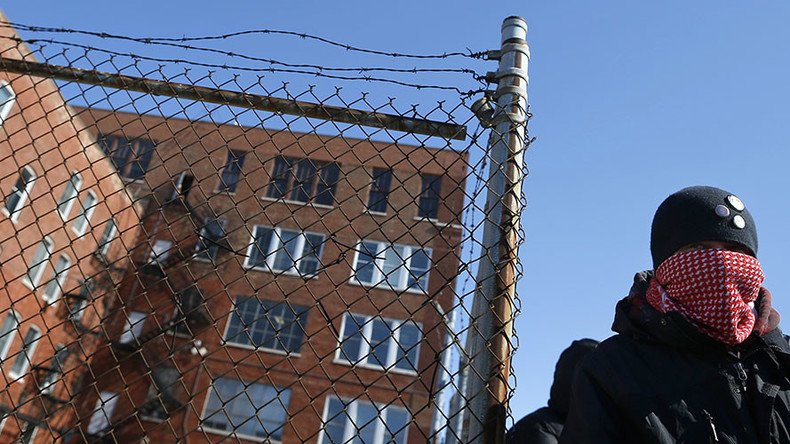 A secret detention center run by the Chicago Police Department (CPD) was under the spotlight at a first-of-its-kind hearing Tuesday.
While protesters demonstrating against police brutality blocked city streets, elected officials from Chicago's Cook County held the first public hearing about Homan Square, an 'off-the-books' interrogation facility revealed earlier this year by The Guardian.
The investigation found that CPD denied constitutional rights to at least 7,000 victims, some of whom were tortured and sexually abused.
Detainees, activists, and legal advocates testified, while invited CPD representatives were no-shows.
READ MORE: Chicago PD detained 7,000 people at off-the-books interrogation site
The inquiry by Cook County Commissioner Richard Boykin follows the firing of Chicago's police chief Gerry McCarthy by Mayor Rahm Emanuel earlier this month.
Protesters have focused on the cover-up of damning video that shows white police officer Jason Van Dyke shooting black teenager Laquan McDonald 16 times, but Homan Square is part of a broader campaign to address police tactics.
"The Justice Department's investigation must take into account those systemic issues in the Chicago police department that go back decades," Boykin said on Tuesday. "Homan Square is one of those systemic issues."
Homan Square is not part of the US justice department's initial investigation into the racial bias at the CPD, but Attorney General Loretta Lynch called the allegations "extremely important" and said she could expand the scope of her probe to include the black site "if more information were to come to light".
Attorney General Loretta Lynch, like Emanuel, was hand-picked by President Barack Obama, so it's not clear if how hard she will probe his former chief of staff.
Flint Taylor has been fighting police brutality and murder in Chicago for nearly 50 years as co-founder of the People's Law Office. He's now leading the charge against Homan Square.
"Some of the activities in Homan Square fit into the definition of torture, internationally, under the UN's definition," Taylor told The Guardian. "Homan Square needs to be looked at under that light."
Two men who claimed they were illegally held at the facility and denied basic rights by the arresting officer also testified.
"There they interrogated me, asking me things that I had no idea about, for murder and you know, if I know where any guns are and things of that nature. And I sat in that room, and they turned the temperature up and I was zip-tied to a bench," Kory Wright said at the hearing.
Victim Marc Freeman claimed he was denied access to a lawyer.
"I repeated my request for a phone call so I could call a lawyer," Freeman testified. "I also repeated my request to use the bathroom. He once again got up and walked towards the door and with a smile he said, you can ask for a lawyer all you want, you're not getting one till tomorrow, you're going to jail."
CPD issued a statement reiterating that the allegations regarding Homan Square were false and the facility housed the department's evidence and recovered property section, with parts of the facility sensitive.
The hearing's testimonies are now public record, which Boykin said he hoped would keep pressure on Washington to include Homan Square in the Justice Department's investigation, as he had little faith that the mayor's office would shut the site by itself.
Emanuel continues to face calls for his resignation.
READ MORE: Chicago protesters block streets, 16 arrested as calls for mayor to resign grow (VIDEO)
Earlier this year, the city approved a $5.5 million reparations fund for victims of a previous torture scandal involving police commander Jon Burge and his band of rogue detectives.
In the 1970s and '80s, they were accused of abusing mostly black suspects, employing tactics such as near-suffocation with plastic bags, cattle prod shocks, flashlight beatings, and mock 'Russian roulette'.
Shawn Whirl spent nearly 25 years in prison for a murder he didn't commit after Burge's detectives tortured him into confessing.
Judges threw out his conviction earlier this year and he is finally a free man.
But so is Burge after finishing in February his four-and-a-half year sentence for lying in a civil lawsuit. The statute of limitations ran out on the torture he committed and a court ruled he gets to keep his $4,000-a-month pension.
You can share this story on social media: