Chicago protesters block streets, 16 arrested as calls for mayor to resign grow (VIDEO)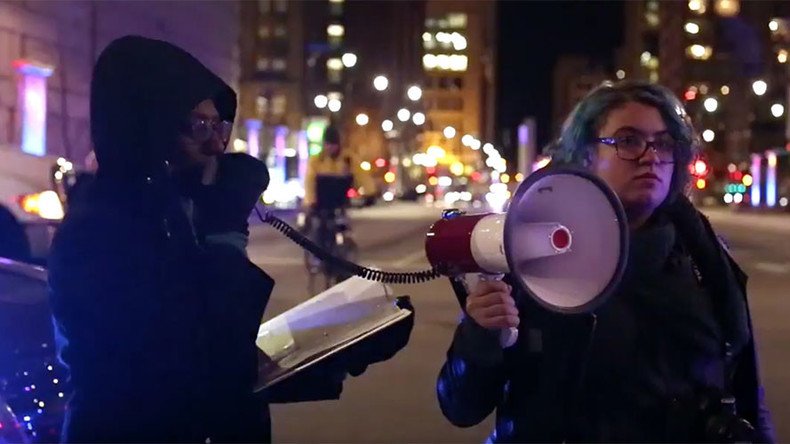 Chicago law enforcement officers arrested 16 people demonstrating against police brutality in the city. Those taking part in the rally held a sit-in, blocking a busy intersection as they demanded the resignation of Mayor Rahm Emanuel.
The demonstration was organized by the Chicago Light Brigade, who said a total of 16 people took part in the protest. The figure was to represent the number of times black teenager Laquan McDonald was shot by police in 2014. He was killed by Officer Jason Van Dyke, who is subsequently facing murder charges.
The protesters gathered at 7pm at West Congress Parkway and Clark Street, after the Chicago Light Brigade had held its annual vigil for victims of police violence. Two police wagons and dozens of officers were on site to respond to the protest.
Those taking part in the rally were also demanding the resignation of Cook County State's Attorney Anita Alvarez.
"This serves as a warning that we can do this at any time we have to do it until Rahm is gone and Anita is gone," protester Jim Ginderske said, according to the Chicago Tribune.
Relatives of McDonald have called on President Barack Obama to convene a White House summit on gun violence and police brutality.
"Mr. President, I want you to send a representative to convene a White House summit on gun violence, and urban poverty, and police brutality," said McDonald's great uncle Reverend Marvin Hunter on November 11, according to CBS Chicago.
"Time and time again, black people are being mistreated by the legal system here, by the Chicago Police," Hunter added. "We're suffering because of laws and policies put in place. We need real resources to change that."
In response to the uproar over McDonald's death, Emanuel, who has a current approval rating of 18 percent, fired the head of the Independent Police Review Authority (IPRA) earlier this month after dismissing the city's superintendent of police.
In addition, the US Department of Justice announced a "patterns and practices" investigation into the Chicago Police Department, based on the handling of the McDonald case and other complaints.
McDonald's death had been covered up until dashcam footage of the incident revealed the true nature of the police's role in his killing.
Meanwhile on Tuesday, Commander Glenn Evans, accused of jamming a gun down suspect Rickey Williams' mouth during a 2013 encounter, was found not guilty of aggravated battery and misconduct. It was also alleged that Evans, 53, held a Taser to Williams' groin and threatened to kill him.
While on December 7, video footage from 2012 was released showing Phillip Coleman in a jail cell being tased three times before being dragged down the hallway. Chicago police took Coleman to a hospital where he again was tased, 13 times, and beaten with batons before he died. An autopsy report listed the cause of death as a severe reaction to haloperidol, an antipsychotic drug, but the report also documented a fractured rib and over 50 bruises and scrapes.
In October, it was revealed that more than 7,000 people – 82 percent of whom were black – were detained, "disappeared," and not given access to an attorney at a secret 'black site' police detention center in Chicago. People were rendered to Homan Square for anything from minor drug crimes to murder. Those held at Homan Square have said they received beatings and sexual abuse, among other allegations.
You can share this story on social media: