Furious Chicago protesters say they won't leave until Mayor Emanuel does: Here's why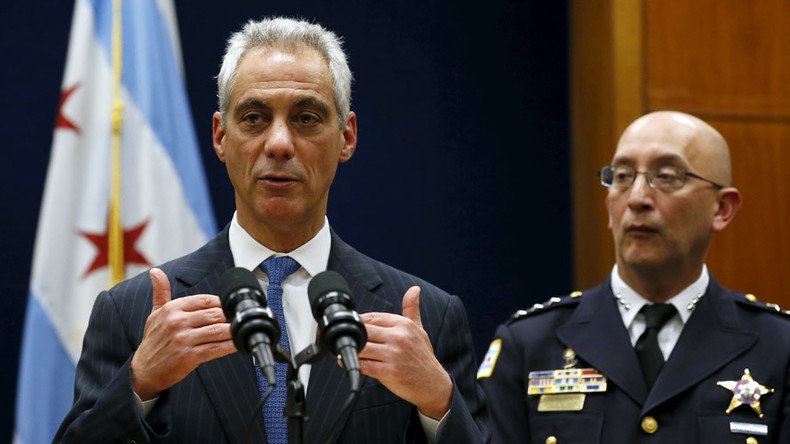 Thousands have taken to the streets of Chicago, dismissing Mayor Rahm Emanuel's 40 minute-long apology at City Hall. Amid calls for Emanuel and the Cook County State's Attorney to resign, protesters clarified that police brutality isn't their only concern.
"I take responsibility for what happened, because it happened on my watch. And if we're going to fix it, I want you to understand it's my responsibility with you," Emanuel said in front of the City Council, residents and media in an attempt to make amends over the October 14, 2014 police killing of 17-year-old Laquan McDonald.
That was too little too late for 200 protesters outside City Hall, who then, around noon local time, joined with thousands of others walking out of school or the workplace to march for the resignations of both Emanuel and the county's State's Attorney Anita Alvarez.
More than 1,800 people RSVP'd to a Facebook event for Wednesday's demonstrations, NBC Chicago reported. Eventually traffic on Michigan Avenue was blocked, as were major storefronts in the area.
Despite an overnight poll released Tuesday showing Emanuel with an 18 percent approval rating and over half the city demanding he step down, the mayor received applause at City Hall Wednesday for a story he told of an unnamed young man asking him, "Do you think the police would ever treat you the way they treat me?"
"The answer is no, and that is wrong, and that has to change in this city. That has to come to an end, and it ends now," Emanuel answered for the City Hall audience.
But for the protesters, the first thing that needs to end is Emanuel's second term as mayor. Some have speculated that the mayor helped keep the Laquan McDonald dash cam video out of the public eye for purposes of getting re-elected without having to address issues with the Chicago Police Department.
"This is bigger than a police shooting. There's a culture of corruption that exists in Chicago," a protester said to the crowd at Daley Plaza, according to the Chicago Tribune. With police brutality being the most visible evidence of corruption for the protesters, though, the issue is driving the crowds.
The McDonald case, in which a white police officer shot the black teen 16 times, including as he lay motionless, became the most well known example after dash-cam footage was released 13 months after the fact on November 24. The evidence contradicted official statements and, to protesters, it was a cover-up. Emanuel tried to assuage the protesters a week later, asking Police Superintendent Garry McCarthy to step down, then doing the same to the head of the Independent Police Review Authority this past Sunday.
Eight days prior to McDonald being shot dead, a similar fate befell 25-year-old Ronald Johnson, who Chicago police say was armed as he ran from them towards a public park, where he was shot twice. On Monday, Alvarez, the Cook County state's attorney, announced no charges would be pursued against the police officers after an independent police review found they acted within policy.
On Tuesday, a trial relating to another Chicago police brutality case began. Commander Glenn Evans faces aggravated battery and official misconduct charges for allegedly shoving a gun down the throat of Ricky Williams, while at the same time holding a Taser to his crotch to obtain a confession in January 2013. Despite an independent police review advising Evans be relieved of police powers, he kept his senior role overseeing a West Side police district.
On Monday, video from 2012 was released showing Phillip Coleman in a jail cell being Tased three times before being dragged down the hallway. Chicago police took Coleman to a hospital where he again was Tased, 13 times, and beaten with batons before he died. An autopsy report listed the cause of death as a severe reaction to haloperidol, an antipsychotic drug, but the report also documented a fractured rib and over 50 bruises and scrapes.
"I do not see how the manner in which Mr. Coleman was physically treated could possibly be acceptable," Emanuel told reporters Monday. "While the medical examiner ruled that Mr. Coleman died accidentally as a result of treatment he received in the hospital, it does not excuse the way he was treated when he was in custody."
On Sunday, the New York Times reported the Justice Department (DOJ) will launch "a far-ranging investigation into the patterns and practices of the Chicago Police Department, part of the continuing fallout over a video released last month showing the police shooting of Laquan McDonald."
That DOJ investigation was initially called "misguided" by Emanuel, but a day after the local McDonald investigation wrapped up, he flipped to welcoming the feds.
The public pressure Emanuel feels to resign may be informed by Chicago's mayoral history. Only two mayors have served two or more terms in the past 60 years: Richard J. Daley from 1955 to his death in 1976 and his son, Richard M. Daley from 1989 to 2011.
You can share this story on social media: