Instant karma: Suspected burglar eaten alive by alligator while hiding from police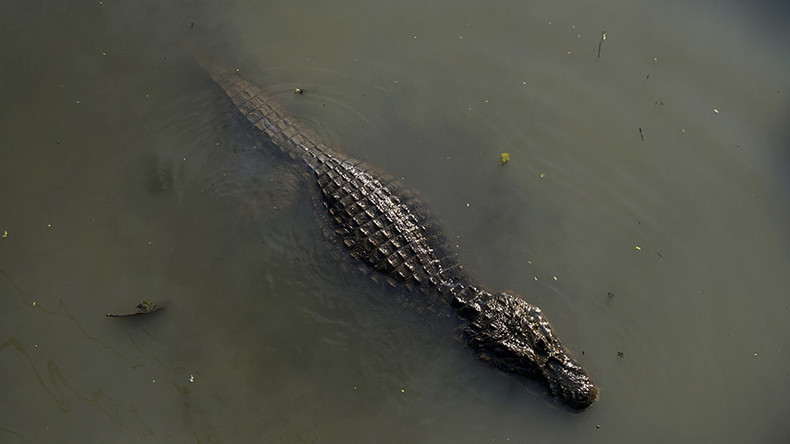 A Florida man suspected of committing burglaries was killed by an 11-foot alligator while hiding during a police raid.
Matthew Riggins was reported missing on November 13, but his body was found 10 days later floating in a pond in Barefoot Bay, Florida. When authorities tried to pull his remains out of the water, they were nearly attacked by an 11-foot-long alligator, Major Tod Goodyear of Barefooy said in a statement.
Just before going on a mission in his neighborhood, Riggins, 22, phoned his girlfriend notifying her of his plans to commit burglaries with another person.
"He was going to do burglaries in the Barefoot Bay area with another individual," Goodyear said, according to BayNews9
The second suspect escaped the fate of being eaten by a crocodile and is now in custody but is not cooperating with police, authorities said.
Barefoot Bay area residents called the police, saying they had seen two men dressed in black lurking in their backyards. A police squad with service dogs and later a sheriff's helicopter were dispatched to the scene.
Riggins then called his girlfriend again saying that they were on the run. The search continued in vain, and after a couple of hours it was called off.
"He probably went into the lake to hide from the officers and the dog, and came across that gator," Goodyear said.
"To hide somewhere to try and get away, and then meeting up with an animal like that, no, I've never had that happen before."
A trapper from the Florida Fish and Wildlife Conservation Commission was sent to the Barefoot Bay pond the day that Riggins' body was recovered. The reptile was euthanized after it started to aggressively approach divers who were involved in the recovery of Riggins' remains.
READ MORE: 'Can't bribe crocodiles': Indonesia may use reptiles as prison guards
Forensic investigators were able to find some of Riggins' hand and foot inside the alligator's stomach. An autopsy determined that Riggins died from drowning after being dragged underwater by the animal.
"I would say it's poetic justice, [if] you want to sit there and steal from people," said Barefoot Bay resident Chuck Stotes, according to the Daily Mail.