'I'll take a bullet before you do': San Bernardino hero cop evacuates people amid shooting (VIDEO)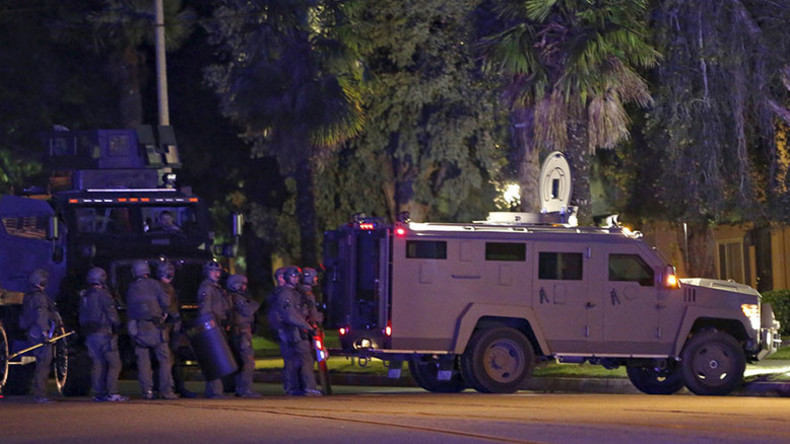 A police office in San Bernardino has been hailed as a hero after a video emerged online of him reassuring terrified evacuees from the Inland Regional Center that he would take a bullet for them.
The footage, which was apparently taken during the deadly shooting at the Inland Regional Center on Wednesday, shows an officer leading a group of people to safety.
An unarmed policeman tells the panicking evacuees to walk calmly and hold their hands so that he can see them.

Scene from inside building at San Bernardino shooting

San Bernardino Police confirmed that at least 14 people are dead and 17 people have been injured in the mass shooting in San Bernardino Wednesday. Police say there were up to three suspects who may have left the area in a dark-colored SUV. "They came prepared to do what they did as if they were on a mission," said San Bernardino Police Chief Jarrod Burguan.Gabi Flores gave us permission to post this video from inside the Inland Regional Center, where the shooting took place. She is Consumer Services Coordinator there. In the video, you can see an officer leading the group to safety. At one point, he says: "Try to relax, try to relax. I'll take a bullet before you do, that's for damn sure."Here's everything we know so far: http://kp.cc/1NHW0Qj

Posted by KPCC on Wednesday, December 2, 2015
"Try to relax, try to relax. I'll take a bullet before you do – that's for damn sure," the cop tells the crowd.
The clip ends with the people thanking the officer, who risked his life to guide them out of harm's way.
The video gathered numerous positive comments after appearing online, with users calling the cop a hero.
A total of 14 people were killed and another 17 wounded after a Muslim couple opened fire with assault rifles at the Inland Regional Center.
READ MORE: 2 suspects dead in San Bernardino mass shooting, both identified
The attackers – Syed Rizwan Farook and his wife, Tashfeen Malik – were later shot dead in a gunfight with the police.