NASA contractor Orbital to launch first spacecraft since 2014 rocket explosion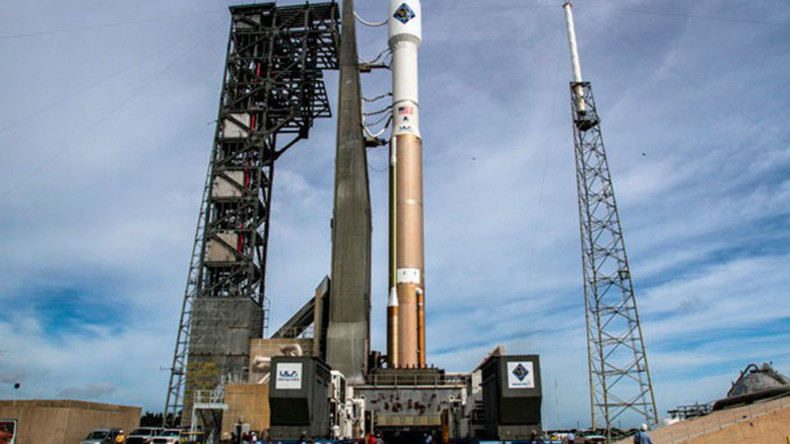 NASA contractor Orbital ATK is set to launch its first resupply mission since its rocket explosion disaster in 2014. Its cargo capsule will carry more than 7,000 pounds of food, water, and supplies to the crew members of the International Space Station.
The launch of Orbital's Atlas V rocket carrying its Cygnus cargo capsule is set to take place on Thursday afternoon at the Cape Canaveral Air Force Station in Florida. It will have a 30-minute launch window. If it is unable to take off at that time, another attempt will take place on Friday.
The cargo capsule will be loaded with 7,700 pounds of supplies, including science experiments. It will take 21 minutes for Cygnus to separate into its initial target orbit after rocket ignition. Orbital said Cygnus will unfurl its circular "UltraFlex solar arrays" one hour after separation, and raise its orbit over the next two days in order to rendezvous with the International Space Station.
"Astronauts aboard the ISS will use the station's robotic arm to grapple Cygnus and berth it to the Unity node of the space station," said Orbital in a statement. "Cygnus will remain attached to the station for approximately two months…once Cygnus departs the station, it will safely reenter the atmosphere over the Pacific Ocean."
The upcoming launch to resupply the ISS will fulfill part of Orbital's contract with NASA. Under its Commercial Resupply Program, the company must deliver 44,000 pounds of cargo to the station in eight missions. Atlas V will be the fourth of these.
The launch will mark over a year since Orbital's unmanned Antares rocket exploded in a fiery nighttime display on October 28, 2014, just seconds after taking off from NASA's Wallops Flight Facility in Virginia. It was the company's third mission to ferry gear and food to astronauts, and was carrying 5,000 pounds of food, supplies, and science experiments, which were all engulfed in a fireball.
At the time, NASA said the cost of the launch was around $200 million.
Onboard the ill-fated rocket had been Planetary Resources' Arkyd 3 telescope prototype, which was developed to explore space and identify natural resources on asteroids. The project had been privately funded and raised $1.5 million in a 2013 Kickstarter campaign.
An investigation into the accident found that the explosion mostly liked started in one of the rocket's two main engines. Orbital has been reviewing what went wrong since that accident, and made changes to its rocket and vehicle designs. Those changes will be ready for a new Antares rocket launch next year, which will use RD-181 engines made by the Russian Energomash company.